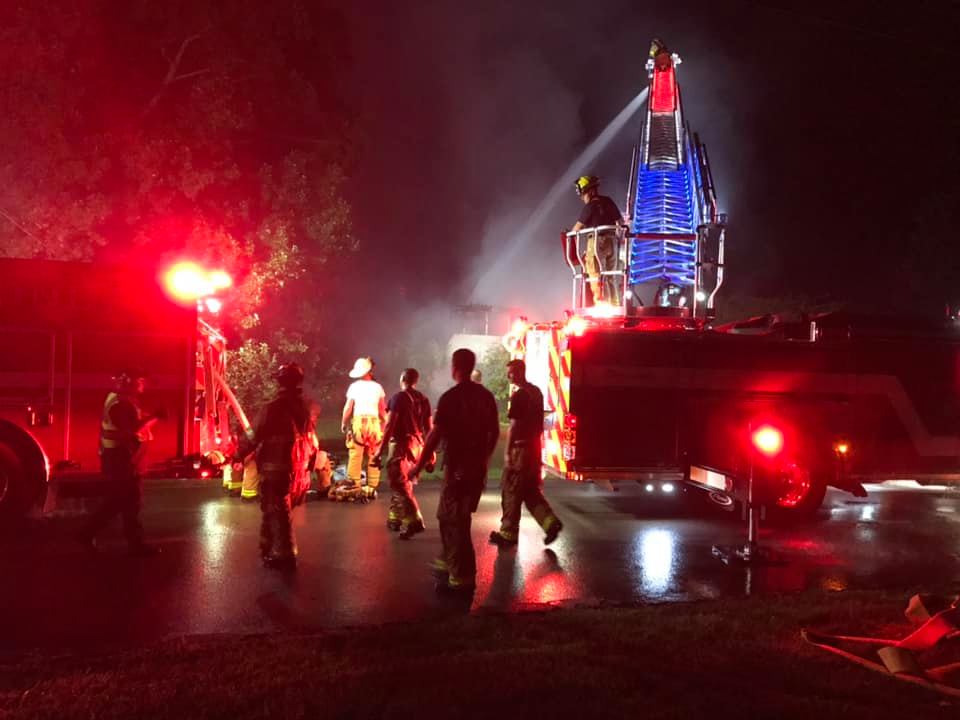 Photos courtesy of the Brentwood Fire and Rescue Facebook page
By RACHAEL LONG
Brentwood Fire and Rescue personnel were on the scene of a residential fire in the Brenthaven subdivision in the early morning hours of Tuesday, July 9. 
Though the department was able to respond quickly, Fire Chief Brian Goss said the home's roof was partially collapsed, the structure fully involved upon their arrival. 
The fire at 1304 Lavada Place was called in by a passerby on Lipscomb Drive, Goss said. The property is situated a few houses down from Lipscomb Drive, and Goss said significant fire was showing when the call came in at about 1:07 a.m.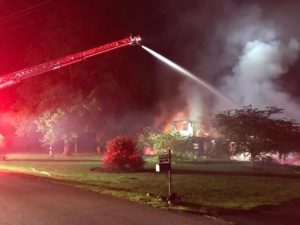 Upon arrival, Goss said his team immediately set up its aerial truck for a defensive attack, which lasted several hours.
No one was home at the time of the incident according to Goss, who said the last occupant had left the home around 7:30 p.m. to "stay at a friend's house." Homeowner Julie Craig was with her son at college orientation in Knoxville, Goss said. 
The fire investigator has been on the scene this week, but no official cause has been determined at this point. A point of origin has been identified, Goss said, somewhere in the center of the home. 
The fire investigator and insurance agent will again be on the scene Thursday morning. Still, Goss said an explanation for what started the fire may not be found.
"With this much destruction — to be honest with you — they may never determine a cause," Goss said. 
While the family awaits answers, the Brentwood community has jumped into action to aid the Craig family. A GoFundMe page was started Tuesday with a goal of $20,000 to address some of the family's immediate needs. By Wednesday evening, 155 people had already donated $18,734 to the family. 
Along with donations, those who have given to the family have also left messages of hope and comfort. The GoFundMe page can be found here. 
Despite the total loss of the home, Goss touched on a sentiment to remember in times of tragedy.
"Nobody was hurt, and that's always our goal number one."