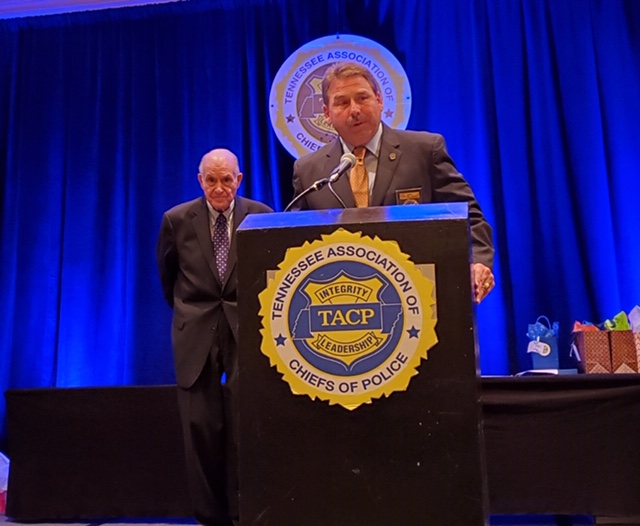 STAFF REPORTS
Brentwood Police Department Chief Jeff Hughes and Brentwood Fire and Rescue Deputy Chief David Windrow were both awarded at the state conferences in July.
Hughes received the 2019 Joe Casey Award at the 2019 Annual Tennessee Association of Chiefs of Police (TACP) conference in Chattanooga on Friday. The award was named after and presented by past TACP President and past president of the International Association of Chiefs of Police, retired Metro Nashville Police Chief Joe Casey.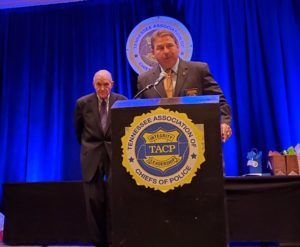 The top law enforcement honor is awarded annually to the Chief of Police who has distinguished them self in the TACP through their character, effort and dedication. According to a news release, the award also "exemplifies his involvement with local, county, state and federal organizations to promote and enhance the professional image of all law enforcement."
"This year's recipient is very deserving and meets all specifications of the award.  A man I respect and admire," Casey said. "He has contributed much to the success of TACP and the Tennessee Law Enforcement Accreditation Program. His service to all of law enforcement and especially TACP is exceptional. His career in law enforcement spans 36 years and he serves as an example to all of the members of this organization and the law enforcement profession as a gentlemen of unquestionable character and integrity."
Hughes has been a member of the TACP since 2006 and previously served as TACP treasurer and president. 
"Jeff Hughes is highly respected within the TACP, his community and profession.  He is also well known by many of our state legislators as the TACP Legislative Chair.  He does not hesitate to get involved and testifies as to the law enforcement process and the importance of safe communities across the state of Tennessee," TACP Executive Director Maggi Duncan said. 
Windrow was awarded with the Distinguished Service Award at the Tennessee Fire Chiefs Annual Conference in July where he was recognized for his service as Chair of the Legislative Committee.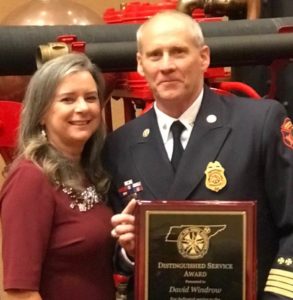 The committee lobbied for The Barry Brady Act, a bill that provides financial benefits to firefighters diagnosed with certain cancers, that passed along with several other bills. According to the news release, the other bills passed along with act enhance the powers of county fire investigators and certification for electrical inspectors. Bills passed also provide 25-year retirement for police and fire personnel, create additional grant opportunities for volunteer fire departments, provide permanent funding for the State Firefighter Memorial in Bell Buckle and includes a 25% increase in training salary supplement.
"While he would be the first to tell you that countless others played a role in their passage, his representation of the Association and its members was tireless and unrelenting," Brentwood Fire Chief and Tennessee Fire Chiefs Association President Brian Goss said as he presented Windrow with the award.
Brentwood Mayor Rhea Little congratulated the two chiefs in the news release.
"Congratulations to both Chief Hughes and Deputy Chief Windrow on their very well-deserved awards," Little said. "We are very proud of these dedicated public servants and the work they do every day on behalf of Brentwood and the state. They are both great mentors for our younger law enforcement officers and firefighters."