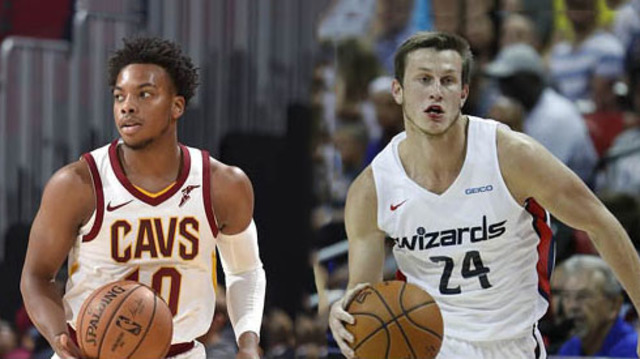 By Michael Gallagher 
Former Vanderbilt point guard Darius Garland and ex-Lipscomb shooting guard Garrison Matthews made their respective NBA preseason debuts on Monday night, each making an impact off the bench.
Garland, a former Brentwood Academy standout and the No. 5 overall pick by the Cleveland Cavaliers, had nine points, one rebound, two blocks and two assists over 14 minutes in Cleveland's 120-89 win San Lorenzo.
"I have a lot of support around me," Garland told reporters before Monday's game. "I have my whole family here. They always help me stay locked in.
"My mom, dad, brother…they love it (in Cleveland). It's like Nashville. It's kind of low-key and you can't get in a lot of trouble. So, I'm really blessed about that."
Garland went 4-for-4 from the field and knocked down his only 3 to help the bench score 81 of the Cavaliers' total points.
At VU, Garland averaged 16.2 points 3.8 rebounds and 2.6 assists over five games before suffering a season-ending injury.
While at Brentwood Academy, Garland won a record-tying four straight TSSAA state championships and joined fellow BA alum Brandan Wright as the only players in state history to win three consecutive Mr. Basketball awards.
Garland averaged 27.6 points per game as a senior, being named a McDonald's All-American and the Gatorade Tennessee Player of the Year in 2018 before heading to Vanderbilt.
Mathews, a former Franklin star and undrafted free agent signing of the Washington Wizards, totaled eight points, three rebounds and one steal scattered over 14 minutes in Washington's 104-99 loss to the New York Knicks.
Mathews went 3-for-5 on field goal tries and hit 2 of 4 from beyond the arc. He was tied for the second-most 3s of the team.
Matthews averaged 18.5 points and five rebounds per game during his four years at Lipscomb, including a career-high 21.7 points per game in 2017-18. He was named to the ASUN All-Freshman team in 2016 and the 2017 ASUN All-Conference first team, while ranking top 10 in the ASUN in rebounding and third in scoring.
At Franklin, Mathews was a two-time all-region and all-district selection. He averaged 14 points and six rebounds during his time with the Rebels.
Photos by Getty Images.