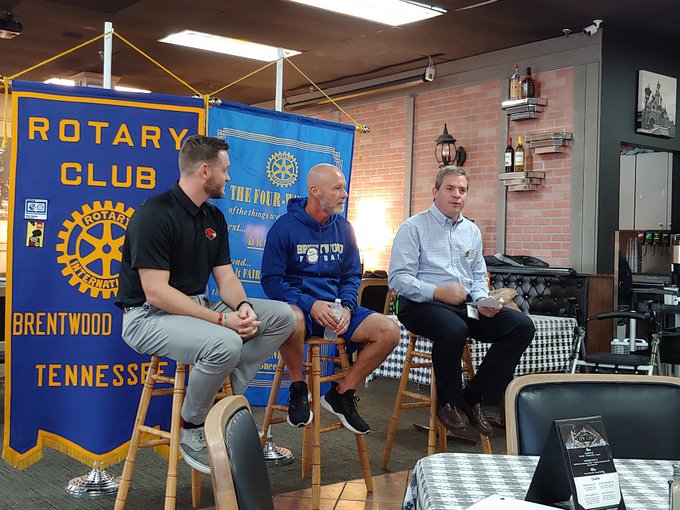 By CHARLIE BATEMAN 
The Brentwood Rotary Club invited Brentwood head football coach Ron Crawford and Ravenwood head coach Matt Daniels to their weekly Tuesday morning meeting at City Café in anticipation of the "Battle of the Woods" rivalry game Friday night.
The two coaches answered questions from Rotary members on a variety of topics, including each other's play in the first four games, keys to the game on Friday, council for life decisions after high school and the possibility of eventually playing all teams in Williamson County.
Crawford and Daniels were complimentary about how their teams have played so far, but they felt there could be a little more room for improvement.
"I feel that we did not play our best football against Henry County, but that is on the coaches," Crawford said. "Confidence for this team means that we show that we know what we are doing as we try to prepare for Ravenwood."
"Our team feels great about our 4-0 start," shared Daniels. "I do not like that we still gave up 600 yards of offense and 47 points to Pulaski Academy, because our defense still let them execute their game plan on offense."
The two big questions from the club were: "how do you council your players for decisions after high school" and "will both teams eventually play all teams in Williamson County"?
"I feel a lot of players say they are looking for the right fit after college, but do not exactly know what that means," said Daniels. "Our job as coaches is to teach them what that means and find a place where they are comfortable. It should be the right fit, with parents' involvement."
"We try to figure out if they really love the game, because the players that have the most fun on our team right now are the ones that know this is it after high school," said Crawford. "We are fortunate to be in a community that provides a lot of choices for our players. Every kid wants to go to Clemson, Ohio State, or Alabama, but not everyone can go to these schools.
"I challenge our players to figure out what offers are real and do research on FCS schools like UTC and Division 2 or 3 schools to find out what works for them. They all provide the same work week in the end."
The coaches were optimistic and stated they were active this offseason in trying to schedule more Williamson County teams outside of their conference.
They made 55 calls to schedule five games out of conference for their teams. The first calls were to the other teams in Williamson County that were not in their region. In their eyes, the smaller county schools thought it would be too much of a mismatch and were not willing to place them on their schedule.
Each coach talked about the keys to winning on Friday, with the two teams set to square off Friday night at BHS.
"We need to control our emotions as we enter this regional game," said Crawford. "We need to handle the rivalry the right way and realize this is not the end of the season if we lose this game."
"Both of our teams have mutual respect for each other," said Daniels. "I fully expect that we will matchup again in the playoffs. Brentwood has a lot of experienced defenders in this game and we know Garcia will need to be on his game to control their [Brentwood] back seven."
Photo from Brentwood's Athletic Dept. Twitter page.