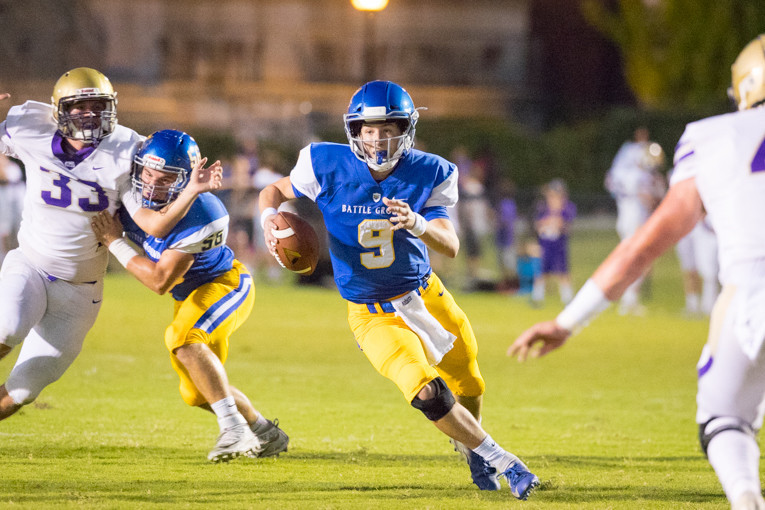 STORY BY GRANT BRICKER | PHOTO BY ANDY COLLIGNON 
For first-year BGA head coach Jonas Rodriguez, it just keeps getting better and better.
BGA posted up a 35-16 victory Friday night against Franklin-Simpson High School from Kentucky.
The Wildcats got off to a great start, taking only a couple of minutes off the clock as they scored on a 49-yard touchdown pass to Xavier Shaw on their first drive.
BGA relied mostly on the passing game tonight as its quarterback Nick Semptimphelter as he completed 15 out of 24 passes for 258 yards passing with four touchdowns.
After shutting out their opponent for the entire first half, the score at halftime was 28-0 after a touchdown on a 30-yard run from Sean Williams.
Despite getting shut out in the first half, one thing you have to admire about this Franklin-Simpson was the fight in them. They would go on to outscore BGA by a margin of 16-7 in the second half even though they would come up short in the end.
Semptimphelter would take away what little momentum the opposing team had with another touchdown pass in the second half to put the game out of reach as BGA would win 35-16.
At the end of the day, winning the turnover battle proved quite fruitful for BGA as they forced four turnovers, a couple of which were when Franklin-Simpson was inside the BGA five-yard line. Without this, BGA could have let its lead slip late in the game.
This win puts BGA and Rodriguez at 4-0 on the season. Rodriguez shared his thoughts on what it's going to take to keep the wins coming this season.
"Focusing on the little things and attention to detail," Rodriguez said. " We've really got to breakdown all the fundamental aspects of what we're doing, and how we're executing and also to help our guys understand their position and to have them become masters of their technique."
BGA's 2018 D-II AA state finals rematch awaits next week as they will face their regional rival CPA, still without a win this year.