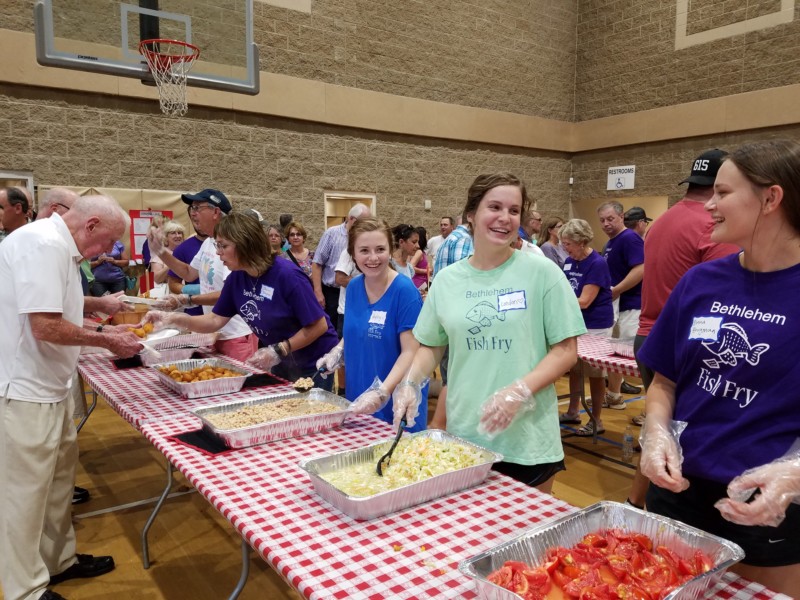 PHOTO: Attendees at the Bethlehem UMC's 45th annual Fish Fry will enjoy catfish, white beans, coleslaw and sliced tomatoes, as well as ice cream, baked goods and plenty of music. / File photo
By JOHN McBRYDE
When Harry Robinson became music director at Bethlehem United Methodist Church in Grassland 23 years ago, he asked if there were any bluegrass musicians among the congregation.
"Six fellows showed up after church, and within a week we were rehearsing," said Robinson, leader of the Bethlehem Bluegrass band that is still playing today. "We've had members come and go, but we're still going strong."
And for the last 15 years, Bethlehem Bluegrass has been an integral part of the Bethlehem United Methodist Church's annual Fish Fry on the church's shaded grounds at 2419 Bethlehem Loop Road off Hillsboro Road. The 45th Fish Fry takes place Friday from 4:30-8 p.m.
The more than 1,800 pounds of pond-raised catfish and coleslaw made from a secret church recipe may be the stars of the show — not to mention the hushpuppies, sliced tomatoes and white beans — but the music adds the ideal accent to the evening.
"We'll play some hymns and some gospel songs, and a couple of secular songs and instrumentals — we'll mix it up," Robinson. "It should be a fun set, with a lot of variety."
Robinson plays dobro in the eight-member Bethlehem Bluegrass band, which features fiddle, mandolin, banjo, bass and four-part harmony vocals. The Fish Fry will also have music from the 5 Points Swing Band, a 24-piece orchestra formed in 2011 by members of the Williamson County Community Band through the county's Parks and Recreation department.
"Each year, we host around 4,000 of our friends, neighbors and family for dinner on the shaded grounds, with delicious farm-raised catfish and an incredible, free children's area," Fish Fry chairman Mike Loring said in a press release. "All the proceeds from the event help support the church's missions abroad and locally including Kathy's Backpacks, which provides new backpacks and supplies for area school children needing assistance which we will pack right after the Fish Fry."
In addition to the main meal, attendees can enjoy ice cream from the Pied Piper Creamery. Extra sweets can be found at the bake sale; always a popular spot with a variety of items from cupcakes and bread to brownies and cookies, said bake sale chair Jane Speer.
"The church is known for some of the best bakers in Franklin, and we will have a huge variety of delicious treats," she said.
Tickets for adults are $10 in advance at the church and $13 the day of the event. Children ages 10 and under are always $6 and children under 3 are free. Hot dogs are available for children and a separate carryout serving area is provided.