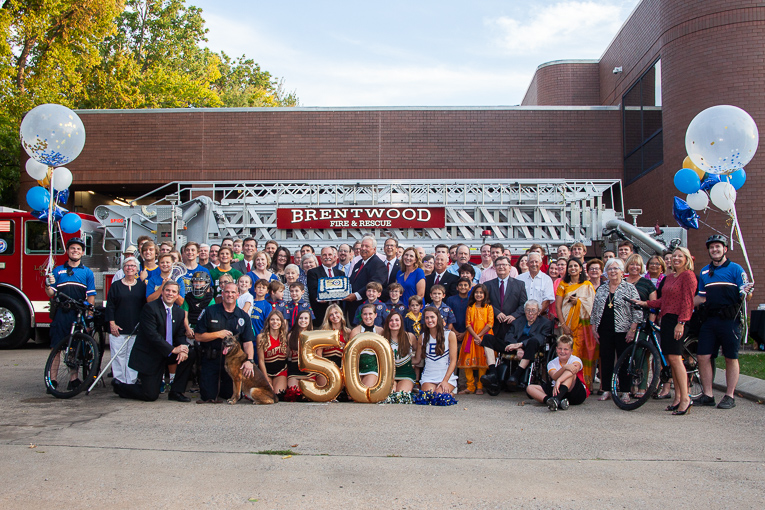 By MATT MASTERS
The City of Brentwood marked their 50th anniversary with decade-long tradition on Monday evening as government and community leaders of past and present, student athletes, first responders and others took a group photo in front of City Hall.
The photo has been replicated every decade since at least 1989 with the ever-changing faces of leadership and the one constant — a cake.
For some residents this wasn't the first group photo that they've appeared in, although some people are a little taller, a little grayer or a little wiser than their previous selves, now hung in picture frames inside City Hall.
One of those people is Trott Garwys, the grandson of current City Commissioner Regina Smithson.
Garwys, now 24, was a 14-year-old Boy Scout in uniform in the 2009 photo, returning to Brentwood after recently graduating from Utah State.
"Seeing the difference between 10 years ago and now, as much as it's changed it feels like there's no difference at the same time so it's pretty cool to see that Brentwood is still Brentwood and it's nice to see how people stick around and are involved in the community," Garwys said.
For Smithson it's especially meaningful as she gathered with three generations of her family during the occasion that saw on of the Brentwood Fire and Rescue Department's engines parked as a proud addition to the background.
"Everything about Brentwood is community oriented and family oriented and that's what we've strived for and I think that's what we've accomplished over the last 28 years that I've been on the commission," Smithson said. "It's a big deal to be able to have such an outstanding city government, one that I've enjoyed working with for 28 years, and to see people want to move back because of what we've built here is just inspiring to me."