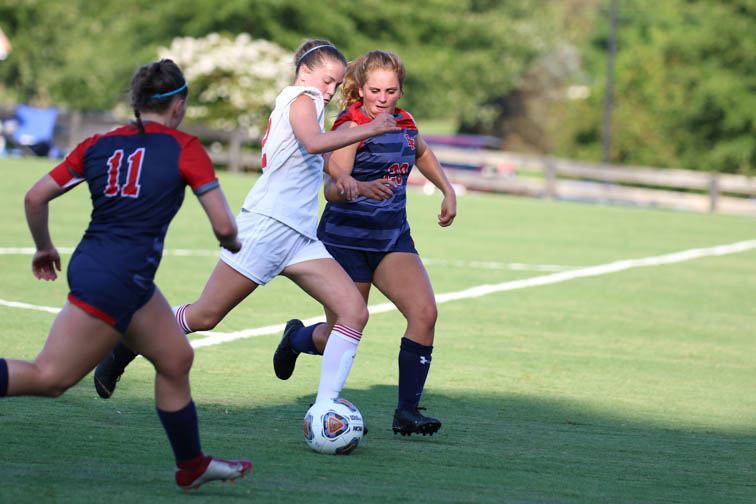 STORY BY MITCHELL STEPHENSON | PHOTOS BY CARL EDMONDSON, JR. 
The 2019 Fall Season has begun.
The Brentwood Academy Eagles and the Page Patriots girls soccer teams looked to start the season with momentum from last years seasons.
Brentwood is coming into the season off a dynamic 2018 season that showed a Division II-AA state appearance and an outstanding 12-2-2 record. They have high hopes to continue the programs success for 2019. Page is coming off a respectable 2018 season which they displayed an 11-6-3 record including 5-1-1 in the tough Division I Class AA, Region 6, District 11.
However it was Brentwood Academy who won impressively 4-0 on their home field. Junior Nolyn Bartholomew scored two goals, as did fellow junior Taya Tagatouli. Tagatouli also chipped in with an assist. Junior Taylor Butler had an assist as well in the Lady Eagles victory.
After the game, Eagles head coach Laura Eldridge gave her thoughts on the contest.
"I thought we played well overall," she said. "There were moments of weakness, and we have things to work on. But there was a lot of right attacking that I haven't seen thus far so I'm really excited about going forward to see where we can take that. "
The Patriots Head Coach Nathan Clapp stated, "It was a case of the Mondays. The girls wanted to try hard. They tried to push through that slump. We just couldn't get past that slump. It was a case of the Mondays. Last Monday we had a practice and we just need to make sure we don't show up like this."
Page's next game is Wednesday, as they host Tullahoma. BA next hosts University Thursday.