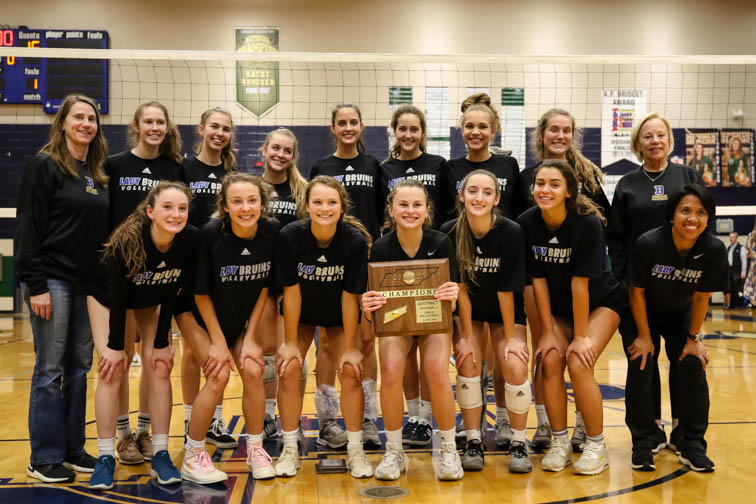 STORY BY CHARLIE BATEMAN | PHOTOS BY CARL EDMONDSON, JR. 
The Brentwood Lady Bruins volleyball team captured their seventh straight 12AAA title over the Ravenwood Lady Raptors in four sets 19-25, 27-25, 25-20, 25-15.
"I was impressed with them tonight," said Brentwood head coach Barbara Campbell.
"Having Shaye (Eggleston) go down first game was really a blow, and I was not sure how we were going to react. The girls came together as a team and found a way."
"Our team was just exhausted," said Ravenwood head coach Abbey West.
"It is really hard to play four sets and then get right back on the court. I am proud of their effort and thought they competed well, being fatigued."
In the first set, Ravenwood came out strong with timely kills and aces snatching the opener 25-19.
Brentwood started their comeback in the second set by collecting valuable kills and 50/50 balls to win the frame with extra points 27-25.
The Bruins continued to turn up the heat in the third set with powerful blocks and kills to keep the momentum up 25-20.
Brentwood kept their eye on the prize, dominating the final frame with aces and kills 25-15 to capture their seventh in a row title.
"A district championship was one of our goals this season," said Campbell. "The girls have worked so hard and paid the price. I am proud they played together and did not fall apart."
The Bruins and Raptors will travel to Dickson County for the region tournament.
Ravenwood will play region tournament host Dickson County next Tuesday.
"I want us to continue to compete and get better," said Coach West. "Our strength right now is team unity."
Brentwood will host Hillsboro next Tuesday at Dickson County. If they win, they will face either Dickson County or Ravenwood in the region championship.
"Our goal and expectations are to win a region title," said Coach Campbell.
Ravenwood defeated Page in the district semifinal in four sets 25-14, 25-19, 22-25, 25-10.
Brentwood swept Summit in the district semifinal 26-24, 25-17, 25-11.