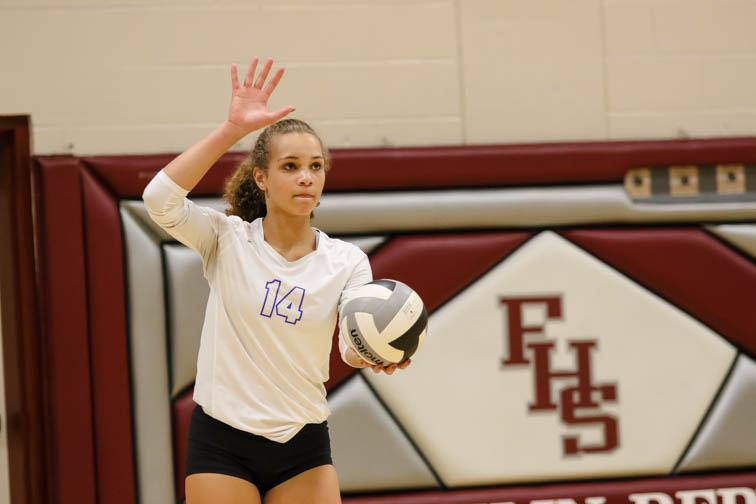 STORY BY CHARLIE BATEMAN | PHOTOS BY CARL EDMONDSON, JR. 
The Brentwood Lady Bruins volleyball team closed the door on the Franklin Lady Rebels on the road Thursday night, sealing the victory in three sets, 25-12, 25-22 and 25-14.
It closes the year with the Lady Bruins going undefeated in district play.
"It was important to us; It was a goal for us," said Brentwood head coach Barbara Campbell. "We had to take it one match at a time, because this district is really tough."
In the first set, Brentwood nailed down timely kills and blocks to get off to a fast start for a 25-12 win.
Franklin fought hard in the second set swapping point for point, but could not finish due to strong kills and aces by the Bruins, 25-22.
"We passed really well out of serve and receive tonight," said Franklin head coach Amber Holzer. "We were in system most of the night. When I made the change for Jillian Ansler to play middle, it really played well for us."
In the third set, Brentwood cemented the victory by capitalizing on 50/50 balls and being on the prowl for kills and aces to win the frame 25-14.
With this victory, Brentwood accomplished 45 wins in the regular season.
"We have a great combination of talent on our team," said Campbell. "We take pride in collecting wins with x's and o's (strategy)."
Both teams will get ready for district tournament play next week.
"We started out really strong at the beginning of the season and tapered off a little bit," said Holzer. "I'd love to see us put everything back together again that we have been working so hard to accomplish and play our best brand of volleyball."
"I want to see desire," said Coach Campbell. "I want to see our kids continue to have high expectations and be ready to play."