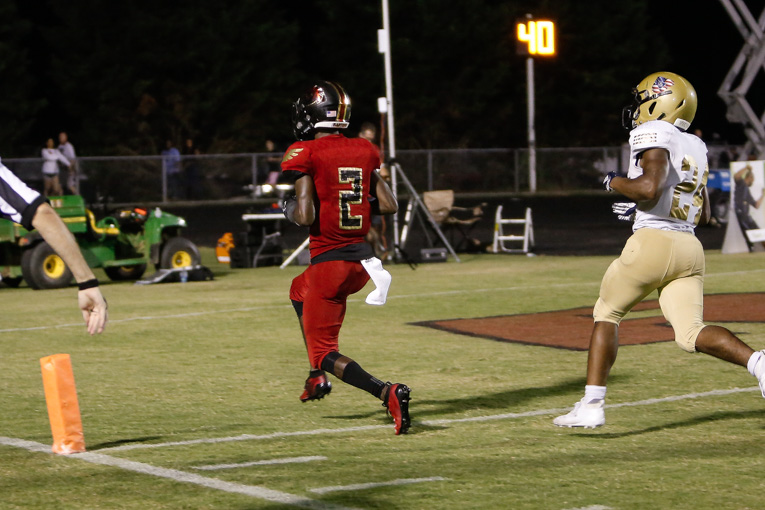 Picking a City Cafe Player of the Week for Week Four of the Williamson County season was pretty easy.
Ravenwood wide receiver and Rice commit Andrew Mason scored eight touchdowns in the Raptor's instant classic win against visiting powerhouse Pulaski Academy of Arkansas.
Seven of those were receiving touchdowns, which ties him for the Tennessee state record.
He finished the night with an absurd 355 yards, seven received touchdowns, and a rush for five yards and a touchdown.
"It couldn't happen to a better kid," Ravenwood head coach Matt Daniels said of Mason's big night. "Andrew Mason is just a phenomenal kid, and a great leader, and teammate. We're really proud of him tonight."
The win leaves Ravenwood 4-0 heading into its gigantic Battle of the Woods brouhaha with archrival Brentwood.
You can probably guess who the Bruins are going to be prepping for.
To boot, Ravenwood's Brian Garcia had a phenomenal night, as he was the one throwing all of those touchdowns to Mason. He finished his stellar night with 386 yards and the seven thrown scores.
Honorable Mentions: 
Independence wide receiver Chayce Bishop had a career night, and also had one of the best nights ever for a Tennessee wide receiver with his five-touchdown performance for 210 yards on 11 receptions.
QB Ethan Cash tossed all five to Bishop and had 327 yards in the Eagles' rout of Blackman.
BGA QB Nick Semptimphelter had 258 yards and four touchdowns in the team's big win over Franklin-Simpson of Kentucky.
Summit QB Destin Wade continued his stellar year with 100 cumulative yards and two touchdowns in the team's class-above road win over Franklin.
FRA RB Jeffrey Vercher had a strong 223 yards and two touchdowns in the Panther's victory over St. George's.