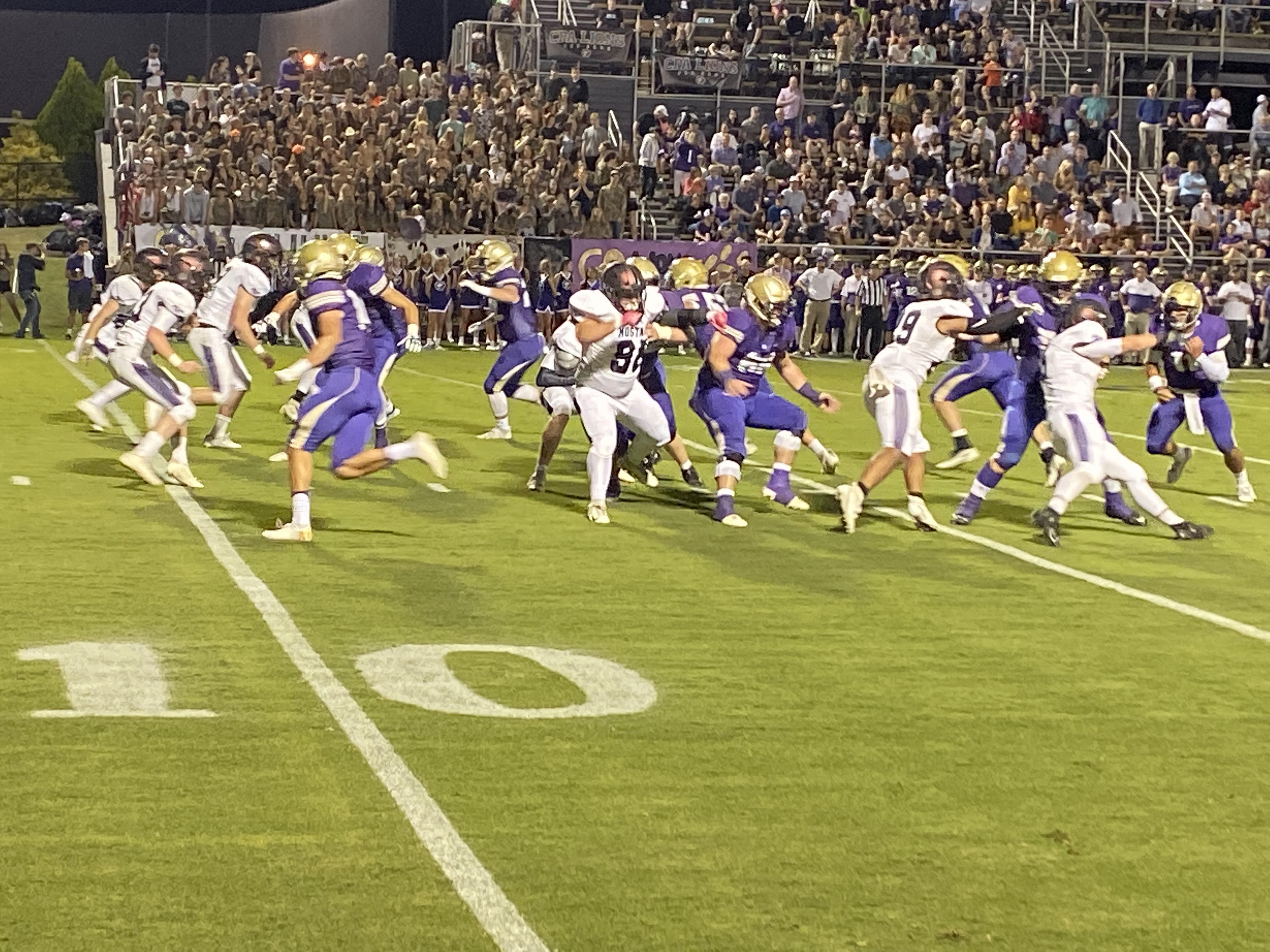 STORY AND PHOTO BY GRANT BRICKER 
Former NFL quarterbacks Trent Dilfer and Ingle Martin faced off tonight as CPA took on Lipscomb Academy at home in their annual regional rivalry game.
CPA was hoping to improve its record in regional play to 2-0 as Lipscomb tried to keep their one-loss season going strong.
It'd be the hosting Lions to prevail, who would continue their recent comeback and defeat the Mustangs 28-7.
The game started off in favor of Lipscomb as the Mustangs marched down the field on their first drive that was almost capped off by a 55-yard touchdown run from Jaden Lyles.
The run was called back due to an illegal shift penalty. This resulted in the Mustangs stalling and giving the ball back to CPA along with the momentum they had with them. From then on, it was all CPA.
CPA's main weapon offensively was the run game. The Lions rushed for almost 274 yards with six different ball carriers, making it very hard to stop with quarterback Cade Law and running back Tyler Reid also contributing in the run game.
Reid took the bulk of the workload tonight as he had 23 carries and 126 yards rushing, Law had 10 carries for 64 yards rushing. However Law and Reid weren't the Mustangs only problems as they struggled to outplay themselves with 72 penalty yards and four turnovers.
All of the Mustangs turnovers would be interceptions as Luther Richesson had tough time facing the pressure from the Lions defensive line late on.
He would throw two interceptions each to CPA cornerbacks Shelby Whiteside and Maverick Rodriguez.
Coach Trent Dilfer took the blame for the Mustang troubles tonight, but stated that his team wont be effected mentally after this loss.
"When you have penalties and turn the ball over and stuff like that, it's on the head coach." Dilfer said. "We talked about this before the game, win or loss this game isn't going to change our lives one bit. It's a temporary setback in the big scheme of things, but I trust these kids and we'll bounce back."
CPA had capitalized well on the mistakes made by the Mustangs tonight as they scored seven points a quarter to secure the victory 28-7.
This has been quite the recovery by CPA as they have found their to a 2-0 regional record after the poor start to the season they have had.
Coach Ingle Martin stated that he was proud of his senior leadership on the team after tonight's win.
"I'm really proud of our seniors. The biggest thing that they we were facing was our schedule." Martin said. "It means a lot to have the seniors buy in. We're excited about where we're at, and we know we've got a long way to go to be as good as we can be."
It's safe to say that the next few games between these teams are going to be a lot of fun as this in-state rivalry has been renewed after the division changes.
CPA will play fiery 6A opponent Ravenwood next week at home. For Lipscomb, they will look to rebound after the loss when they play Rossview next week at home.
Will these two teams meet again in the post season? If so, it could be another great matchup.