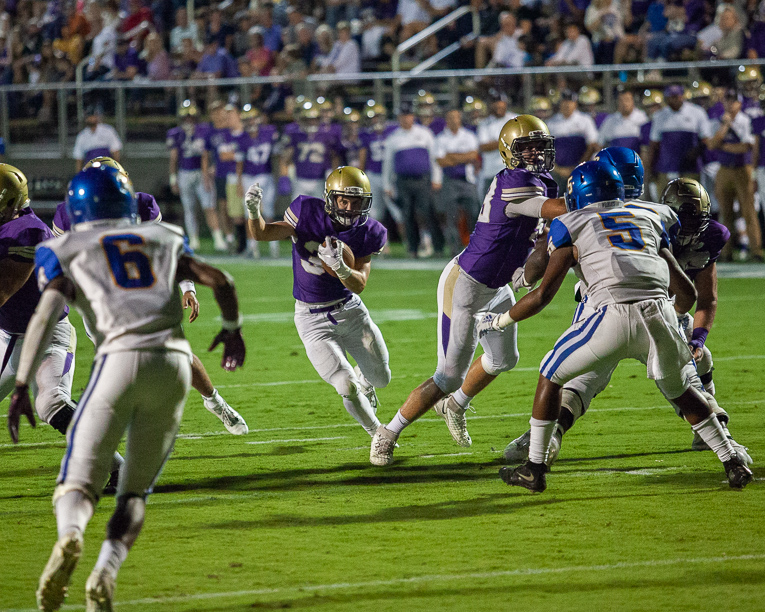 STORY BY GRANT LEDGISTER | PHOTOS BY MATT MASTERS 
In a battle of regional rivals, it was CPA (1-4) that pulled off the huge upset of undefeated BGA (4-1), earning their first win of the year over their opponent in last year's D-II AA state final game, shutting them out 28-0.
Turnovers were a big issue for BGA in this game. BGA quarterback Nick Semptimphelter threw two interceptions and the team lost a fumble, which came after the team had just entered the opponent's side of the field.
Also creating an issue for BGA was CPA's defense, a unit that hurried Semptimphelter out of the pocket on nearly every drive and recorded 32 total tackles and two sacks.
CPA jumped out to the lead late in the first quarter with a rushing touchdown and never looked back.
It wasn't without some difficulty. In the second quarter, until three minutes to go, there were a lot of drives that went nowhere for both teams.
On its first drive of the quarter, BGA recovered a fumble and get the ball near midfield but could not do anything with it and quickly punted it back to its opponent. BGA couldn't do anything with the turnover, as a penalty and sack ended the drive not long after it began.
The Lions went three and out on their next drive, but close enough to midfield that they were effectively able to flip field position and forced the Wildcats to start the drive back at their own 20-yard line. It only took three plays for the team to kick the ball back to its opponent.
Finally, with about three minutes to play in the quarter, it looked like the Lions may finally get back into scoring position with a long return from Maverick Rodriguez deep into Wildcat territory, but it was called back and again the drive quickly stalled out.
BGA looked to be driving with their two-minute office, but Semptimphelter, who was feeling the pressure all drive long, had a pass tipped and picked off.
With less than a minute to play, CPA went quickly, and a caught sideline pass on the two-yard line set up a quarterback keeper by Cade Law for the score.
BGA had 71 yards of total offense in the half, compared to CPA's 156 yards.
Scoring got started much quicker in the second half. BGA got the ball first in the half, but again went three and out as the pressure proved too much for Semtimphelter.
On the ensuing kick, Rodriguez again had a nice return, but again it was called back by penalty. Neither that nor a third and long seemed to matter, as several nice runs by Law and Tyler Reid helped get CPA into scoring distance and Law took it in for the score.
Rodriguez finally got one that counted early in the fourth, taking the ball down to near the 20-yard line of BGA, and Reid cashed in a few plays later, catching a touchdown pass from Law.
Law and Reid combined for 140 yards on the ground for CPA.
Northwestern commit Garnett Hollis Jr. took a hard hit in the third quarter and was down for a couple minutes but did walk off under his own power.
CPA plays BHS next week, and BGA will look to bounce back from the loss against East Nashville Magnet.