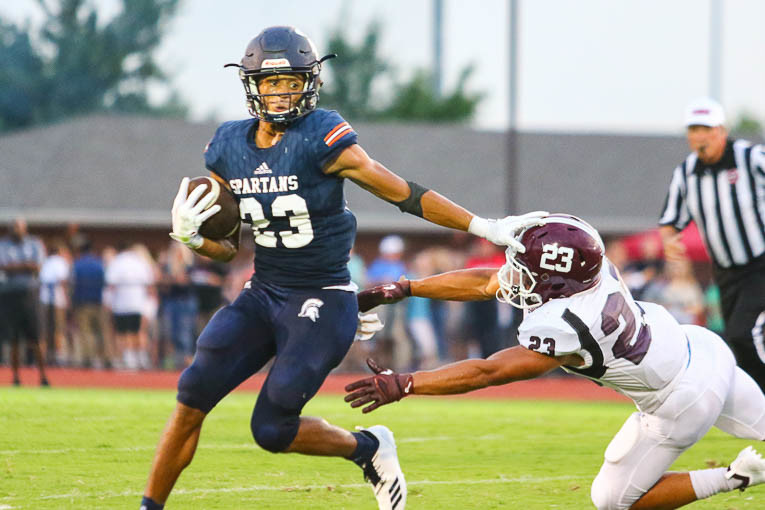 STORY BY CORY WOODROOF | PHOTO BY STEVE WHEELER 
It was not exactly what anyone expected would happen out in Spring Hill on Friday night when sophomore Brady Pierce blasted into the Independence end zone with a pick-six.
The flash play cemented the Summit Spartans as Border Battle champions, making the already-packed Summit football stadium as joyous and loud as any football stadium you'll hear in the county this fall. It was a big deal for the rivalry, for the game at hand, for a group of young Spartans who had never tasted victory in such a way.
But it's a bigger deal for Summit to make such a statement in such a way with the roster it has, against an opponent that could wind up being a threat in a class above.
The Summit Spartans could be dangerous this fall. They really could be the surprise story of Williamson County, akin to region-mate Page in 2018.
First, you have to look at the quarterback. A year ago, signal caller Destin Wade was just a freshman who primarily used his legs to attack opposing defenses. His passing game was a work-in-progress, and he was primarily known around Summit for his basketball prowess.
A year later, he looks like one of the best quarterbacks in WillCo, with a rocket arm, pretty sound accuracy and plenty of pocket poise. His ability to extend plays with his legs and, indeed, gash tired defenses with his scrambling ability show a quarterback that has superseded all expectations and hasn't given opposing teams a ton of comparable tape to work off.
Anyone on Summit's schedule is going to have to scramble to get a copy of Wade's film from last Friday because the quarterback you played last year isn't the one you're going to get when the Spartans are on your schedule.
Wade could emerge to be an early contender for one of the best offensive players in Williamson County if his Friday night sample holds true.
His brother, Keaten, looked like a major asset to his twin brother Destin and a dangerous red zone option. The Wade twins should give teams fits this fall. They might be part of what makes Summit so special.
Next you have to look at George Odimegwu.
The team switched him over to wide receiver in the summer, and he looked the part, and then some. He's got tremendous hands and route-running ability already, and he doubles as having three years at running back to head back to his old position to put defenses on notice. He looked remarkable against Independence already, a hint at what should be a terrifying wrinkle to what's shaping to be a stalwart offense.
The fact that Tre Hunter, a good player in his own right, isn't even the main option in this offense is pretty alarming. He's going to be the secret weapon for Summit throughout the season. Let everyone else get the focus, and let Hunter work.
Odimegwu also locks down the Summit secondary and had some good highlights limiting the Indy passing game, traditionally one of the best in the county. Indy wasn't able to do a ton passing the ball, primarily because of the Spartans defense.
That defense got them into trouble on occasion last year, but it looks vastly improved. Sure, Independence played a sloppy ballgame Friday, but Summit was forcing mistakes and getting stops. Holding hot-armed Ethan Cash and this offense to 15 points is pretty great, all things considered.
Then look at guys like Ashton Lebel, a factor on both sides of the ball, John Casey, a key to the offense that hasn't even warmed up yet, and Pierce, the sophomore who might come out of nowhere and be a major part to this team.
The guys Brian Coleman has intact in 2019 might be good enough to win that region. Page and Shelbyville Central will be tough, but Summit is far better off to face the titans than they were a year ago.
In 2018, we toasted Page as WillCo's football team of the year, and rightly so. I'll be honest with you; it feels like we might do the same with Summit if this keeps up.
(And, hey, don't sweat this one, Independence. Cash is going to have a major year for you guys; Caedon Williams looks great and you've got guys like Chayce Bishop and Chase Robertson in tow. Learn what you need and go make noise in 6-6A.)