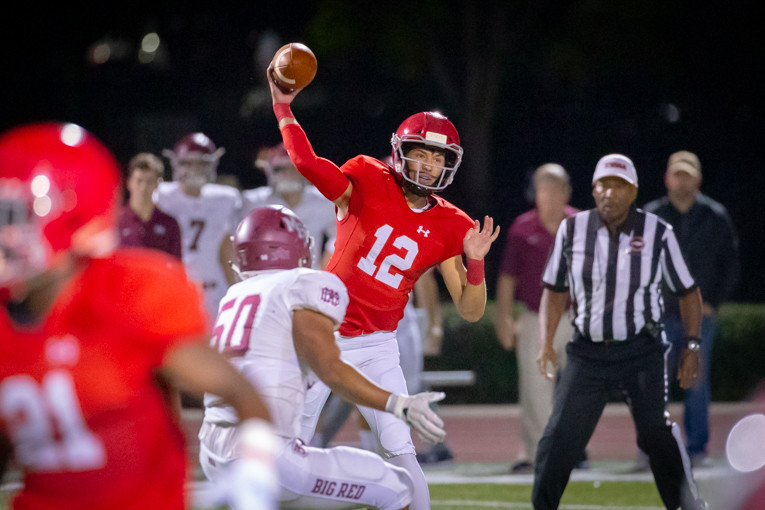 STORY BY GRANT LEDGISTER | PHOTO BY ANDY COLLIGNON 
Brentwood Academy will look to repeat the success the team had in 2018, and 2017, and the two years before that.
Last season, the Eagles went 11-2, winning its fourth consecutive DII-AAA state title game, beating Memphis University School by a score of 28-6.
It was a very successful year in most aspects for the team, with head coach Cody White returning for his eighth season at the school. It's gutsy and smart play calling like the onside kick in the second quarter of the state game that keeps BA's opponents on their toes and helps the team achieve the level of play that it has recently.
This upcoming season, BA is carrying a good mix of youth and experience to the season. The team has over 20 freshmen on the roster, players that can learn from those that have already established themselves and grow into their own.
Quarterback Wade Williams returns to BA for his senior season. Williams went 5-for-9 for 104 yards and two scores in the championship game against MUS and will look to bring a veteran presence and leadership to the offense in 2019.
Any successful rushing attack like the one BA had in 2018 is going to need a good offensive line to block and create holes for the rusher. Junior offensive linemen Noah Josey and Eli Sutton are will be playing again for the Eagles, which should help bolster a rushing attack that has some uncertainties heading into the 2019 season.
The Eagles will look to seniors Manny Scott and Aaron Lovins as well as sophomore Jalen Jones to lead its wide receiving corps to a successful year.
The team is losing several key members, especially on offense. These players include offensive linemen Will Collins and Thomas Gore, who had an impact on both rushing and pass play. Tomario Pleasant, who rushed for 181 yards and two touchdowns on 32 carries in his final game, has also graduated.
Sophomore running back Jordan James will be a breakout candidate for the county this season, already boasting Power Five offers from schools like Tennessee, South Carolina and Missouri.
On the defensive side of the ball, veteran safety Jack Victory has also graduated, leaving a hole that will be filled by Preston Sagan, Lovins or one of the other defensive backs on the roster. Gore's loss on the defensive line is also a key place the Eagles will need rising players to step up.
The season begins in Florence, Alabama, for the Eagles before traveling to Clearwater Central Catholic and then beginning a four game home stand against McCallie, Whitehaven, Father Ryan and West Toronto Prep.
They are away this year against Knoxville Catholic and major rival MBA and finish the season with two straight home games, first facing Ensworth and then Baylor.