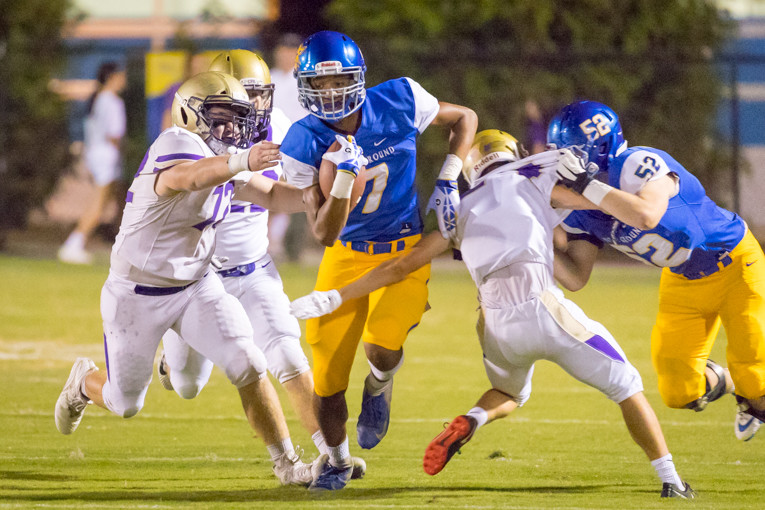 STORY BY CORY WOODROOF | PHOTO BY ANDY COLLIGNON 
The week in Williamson County football can be summed up in one phrase: Battle of the Woods.
The annual Brentwood High School and Ravenwood High School rivalry game is the marquee event of the schedule this week, if not season, with both teams sporting stellar squads and no shortage of desire to top the other.
We've got an early preview of Friday's game, and we'll have more on it soon with it being our Vanderbilt Orthopaedic Game of the Week.
But there are plenty of other, fascinating games on the schedule, including a D-II state rematch and intriguing region fights ahead.
CPA will try to find first win against steamrolling BGA 
While Christ Presbyterian Academy and Battle Ground Academy were on equal footing last season as both faced each other in the D-II AA state game, the fortunes have changed for both programs.
BGA is even better than last season, a perfect 4-0 under new coach Jonas Rodriguez. CPA is 0-4, still without a win.
They're now tasked with hosting a Wildcats team who would love to pay back their region foe who topped them in the state game last season.
It's going to be a hard fight for the Lions throughout, who will face explosive quarterback Nick Semptimphelter, who is having a year that puts him square in contention for the Home Page's Football Player of the Year honor.
It'll also be an uphill climb for Cade Law and his favored target Maverick Rodriguez to go against BGA's lockdown secondary, featuring college talents Garnett Hollis Jr. (Northwestern), Antonio Stevens (Purdue) and Briston Bennett (Charlotte).
BGA has a prime opportunity to keep its perfect season going, while a win for CPA would be an immeasurable confidence booster for its evolving roster.
Indy set to face Region 6-6A partner Franklin 
It's starting to get a little worrisome for the Franklin Rebels.
Though they certainly have talent on the roster and on the sidelines, the team is traveling to face a quite good Independence team Friday night. A loss puts them at 1-4 and on the outside looking in for Region 6-6A's final playoff spot.
It'll either be the Rebels or the Centennial Cougars as to who gets the last spot, with Ravenwood, Brentwood and Independence virtual locks barring any stunning collapses down the stretch.
Quarterback Guy Lipscomb has flashed some promise, but he'll have his hands full against an improved Indy defense, led by pass rusher Chase Robertson (off to Princeton next fall).
The Eagles, on the other hand, could get to 4-1 and present themselves as contenders for the conference crown.
Lipscomb set for annual rivalry game against Goodpasture 
One of Tennessee football's oldest rivalries renews once more Friday night, only this time with a new wrinkle.
Lipscomb Academy will face longtime archrival Goodpasture at home Friday night, the first of new coach Trent Dilfer's time at the helm of the Mustangs.
LA is 3-1 this season, riding a two-game winning streak, with victories against quality opponents in FRA and Page.
A 4-1 mark and a win against a classic rival would make this quite the start to Dilfer's high school coaching career and would position the team's Nov. 1 home tilt against BGA as one to mark your very much calendar for.
The rest of the slate…Brentwood Academy will take on Father Ryan at home…Nolensville will host Lawrence Co….Grace Christian Academy will have a home stand against Mt. Juliet Christian…Centennial will head to Dickson Co….Fairview hosts Sycamore…FRA heads to Donelson Christian…Summit has a road game with Overton…Spring Hill welcomes Tullahoma…Page has a bye week.
5 Games to Check Out: 
If you've never gone to a Battle of the Woods, you have your homework. It's one of the best high school sporting events in the state every year and will create an atmosphere you just have to see to believe. Just be sure to get to BHS early for parking.
Lipscomb seems to be putting on a show for this year's Goodpasture rivalry game, with it being Homecoming night. Another pre-game concert is scheduled, too.
Getting a look at this Indy team is a must if you're looking to see one of the under-the-radar great football teams in WillCo this year. They'll be talked about in October when they're playing Brentwood and Ravenwood close.
Any Nolensville home game should be a good time, so why not this week if you're in the area? The community has rallied around this time tenfold.
That Summit/Overton game should be an awesome one if you're just looking for an Xs and Os matchup.