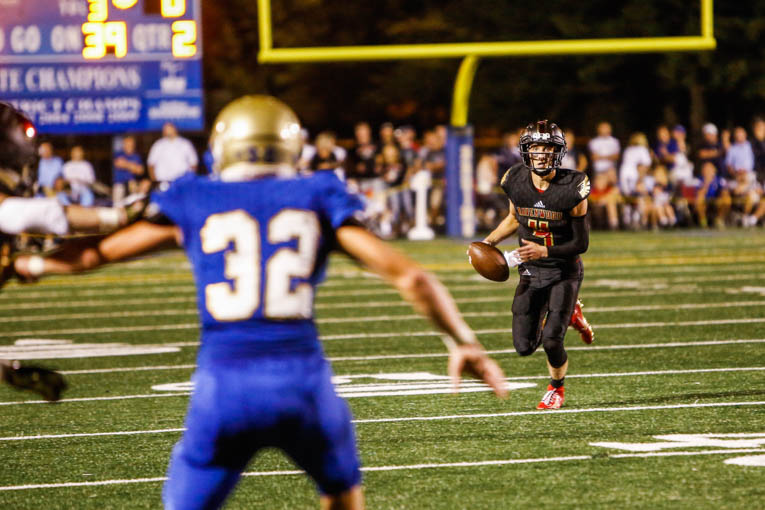 With the wave of bye weeks coming for many Williamson County teams, you might think our slate of games isn't quite what you'd think it'd normally be.
You'd be pleasantly surprised to see the heavyweight battles on the slate for this week.
Our Vanderbilt Orthopaedic Game of the Week will find Brentwood Academy playing their biggest rival Montgomery Bell Academy, which always has major playoff ramifications for both teams. More on that soon.
In the meantime, though, we'll survey who is active this week, and the games ahead should get you excited.
Ravenwood, CPA to sharpen iron in October battle 
It's been a tough week for the Ravenwood Raptors.
The team's head coach, Matt Daniels, is under suspension pending a Williamson County Schools investigation, as is assistant Ryan Folwer, following an alleged incident in practice that left a player concussed when Fowler, an NFL veteran, collided with him in a practice drill.
Interim coach Andy Elrod, though, still saw his team score 70 points on Dickson Co. last week, and will have the task to keep the wheels moving Thursday night against a Christ Presbyterian Academy team that's stunned everyone with their midseason turnaround.
After a difficult 0-4 start, the Lions have beaten quite region foes like BGA and Lipscomb Academy at home, and took it down to the wire with Brentwood High School on the road.
This week, they'll host a Raptors team in the middle of a difficult moment, but one no doubt motivated to keep the ship afloat and continue to build toward a state title run.
You know what the Raptors can do to you, but the budding Lions are a bit of a mystery. Ravenwood will have to make sure to do its homework to know how head coach Ingle Martin will try to surprise them with some guys who aren't quite household names in the county football community just yet.
This should be more mysterious games this season, if only to see how CPA in its turnaround responds to perhaps the most talented roster in Tennessee football.
BGA, FRA has region ramifications 
Battle Ground Academy felt the weight of not having its quarterback, Nick Semptimphelter, out there last week in a close loss to East Nashville.
The team is 0-2 after its after its 4-0 start, but this week could present an opportunity for the Wildcats to get back on track before the playoffs kick in next month.
Though, getting back on track won't come easy this Friday. The visiting Franklin Road Academy Panthers are 6-1 right now and are riding high on the stellar play of quarterback Sean Casey and running back Jeffrey Vercher.
The Wildcats have no shortage of college talent in its defense, giving the Panthers one of their toughest tests yet this season. They'll need that ground game to really pop, because BGA isn't an easy team to score on.
Both of these teams figure to be factors in the D-II AA playoff race, with Lipscomb Academy a sure bet to be there for November football and CPA making its remarkable comeback that could propel them that direction, too.
Whoever wins this game is helping themselves out a great deal when it comes to playoff seeding.
Centennial, Page to battle 
The Centennial Cougars are coming off a double overtime heartbreaker to rival Franklin in the Battle of Franklin.
They'll now engage in the Battle of Franklin, Part Two, Thursday, with the Page Patriots hosting.
The Patriots took down a Destin Wade-less Summit Spartans last week, giving them prime positioning to win a second-straight Region 5-5A title.
Centennial is going to need to put its best foot forward to keep pace for the fourth playoff seat to come out of Region 6-6A, and taking care of the non-region games is a start.
Franklin is beginning to find a bit of a rhythm, so this one will be important for the Cougars.
As for Page, they can really flex their recent program surge by topping a team in a region ahead.
The rest of the slate…Lipscomb Academy hosts Rossview…Nolensville hosts Glencliff…Summit welcomes Franklin Co….Fairview travels to Harpeth…Spring Hill hosts Mt. Juliet…Brentwood, Independence, Franklin and Grace Christian Academy all have bye weeks.
5 Games to Check Out:
Head into Nashville to see Brentwood Academy take on MBA on their home turf. It's one of the marquee rivalry games every regular season.
Seeing Ravenwood at CPA's Lions' Den Thursday night should be a heck of a double bill with BA/MBA for local high school football fans. That could be one to remember.
Another nice Thursday option is Centennial at Page. Watching Desmond Smith of CHS play football is so fun, and they always know how to pack the house in Rudderville.
FRA at BGA, of course, is a good one for Friday. Vercher squaring off against BGA's defense will be a treat.
Your annual reminder that Nolensville is a unique atmosphere — they'll continue to build on their perfect season against Glencliff this week.
Photo by Deb Scally.