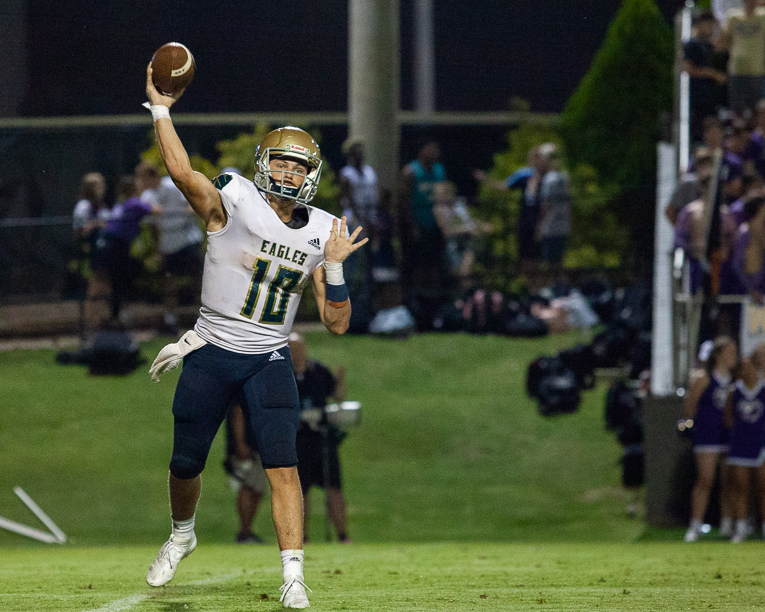 STORY BY KEVIN WARNER | PHOTO BY MATT MASTERS
Lipscomb Academy 24 vs. Page High School 14
A late touchdown helped Lipscomb Academy pull away from Page High School.
The Mustangs led throughout but sealed the deal in the fourth quarter to improve to 3-1 on the season.
Page owns the same record after taking its first loss of the year.
Brentwood High School 14 vs. Henry Co. High School 21 
Brentwood lost a tough road matchup to Henry County Friday. The game went back and forth until a late fourth-quarter Henry County touchdown.
Bruins had a shot to score late but fell just short.
Quarterback Cade Granzow scored both Bruins touchdowns on the ground.
He will look to lead the Bruins against undefeated Ravenwood High School in their annual Battle of the Woods rivalry next week.
Fairview High School 24 vs. Waverly Central High School 26
The Fairview High School Yellowjackets led Waverley Central High School 17-12 halftime after two Anakin King touchdown passes to running back Logan Nardozzi and wide receiver Garrett Wooten, as well as a late field goal.
Waverly then scored 14 unanswered points to go up 26-17 and would hold on to win 26-24.
Fairview will host Sycamore next week.
Independence High School 49 vs. Blackman High School 7
Independence put out the Blackman Blaze fire early jumping out to a 28-7 first quarter lead. Thanks, in large part, to the touchdown passes from quarterback Ethan Cash to wide receiver Chayce Bishop.
The pair hooked up for five scores on the night, including a 70-yard bomb in the first half.
Bishop is tied for fourth now with Indy alum Nathan Johnson and a few others for receiving touchdowns in a singe Tennessee HS football game. Ravenwood's Andrew Mason tied the top mark earlier in the night (seven).
The Eagles will host Franklin High School next week in Thompson Station.
Franklin Road Academy 25 vs. St. George's 22
Franklin Road Academy running back Justin Vercher had a monster night on the ground for the Panthers. The senior rushed for 223 yards and two touchdowns.
Quarterback Sean Casey his own 47-yard on run to help the Panthers secure the victory. He also had 70 yards passing the victory, all to wide receiver Kingston Gardner.
The Panthers (3-1) will travel to Donelson Christian Academy next week.
Centennial 27 vs. Siegel 7
GCA 13 vs. Cornersville 50
Spring Hill 6 vs. Lincoln Co. 28
Father Ryan 17 vs. Pope John Paul II High School 28