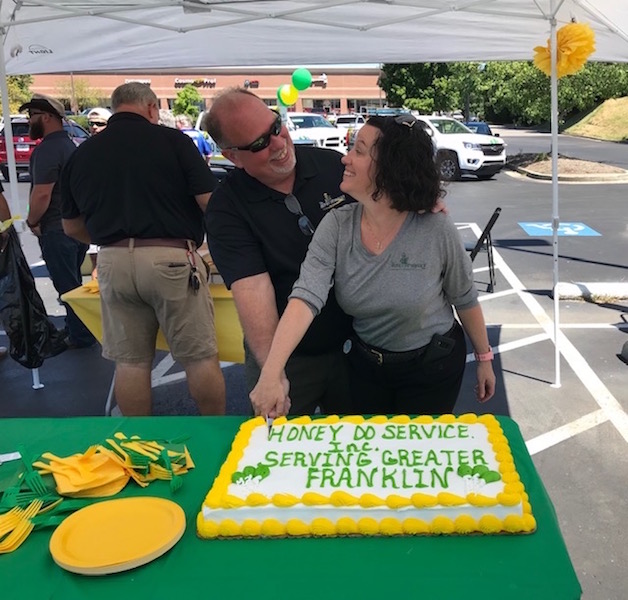 PHOTO: Tracy and Kate Parish cut the cake during a grand opening ceremony for their new franchise, Honey Do Service. / Photo by John McBryde
By JOHN McBRYDE
After he lost his job with General Motors earlier this year, it didn't take long for Spring Hill's Tracy Parish to recognize what he should do next.
Social media paved the way.
Parish, who had worked at the GM plant in Spring Hill the last four years and had been with the automobile manufacturer for 25, was among approximately 4,000 salaried employees who were let go in February as the company restructured.
"When I got laid off, I was thinking, do I go to work for somebody or do I work for myself?" Parish said. "I started really looking at Facebook and Next Door, and seeing how many people are looking for help [with home projects]. I was amazed at how many people are looking for stuff to get done. So I thought, this might be a good thing."
Turns out, it was. Parish met with representatives from the home improvement company Honey Do Service, and in a short time he became the franchise owner of the first one in Williamson County and only the seventh in Tennessee. To help celebrate his new post-GM venture, Parish and his wife, Kate Parish, recently hosted a grand opening in the parking lot of Home Depot on South Royal Oaks Boulevard in Franklin.
"I met with the Honey Do people and they introduced me to the franchisees, … and I got to ride around with their salesmen, their craftsmen and foremen, just to learn their process, and thought, this is really down my alley," Parish said.
"I'm pretty excited about it."
Parish had earned degrees in electrical engineering and business management, and was a good fit for GM. But he was also gifted in home repair and renovations, having learned it from a neighbor as a teenager.
"My neighbor built houses, and one day I came home with rashes all up and down my arm from baling hay," explained Parish, a licensed general contractor. "He said, 'I've got a better job than that so come on over.' I started working for him just doing grunt work and stuff, and next thing you know I'm hanging insulation, I'm doing drywall, plumbing, and that's where I got my background."
As the name implies, Honey Do Service, which was founded in 2002, provides all kinds of home improvement and repair projects, both big and small. The company has had a partnership with Home Depot for years, doing millions of dollars' worth of business with the large home improvement retailer.
Kate Parish said that, with its growth and the number of homeowners who live here, Williamson County is the ideal area for Honey Do Service.
"One thing that turned Tracy on to this opportunity was the fact that there's a gap for homeowners to get the handyman projects done, like getting an electrical outlet changed or getting shelves hung," she said. "It's not always the big kitchen or bathroom remodel. We can do those and we're skilled at that, but just the little things that homeowners may not have the time or skill to do. That's where we come in."