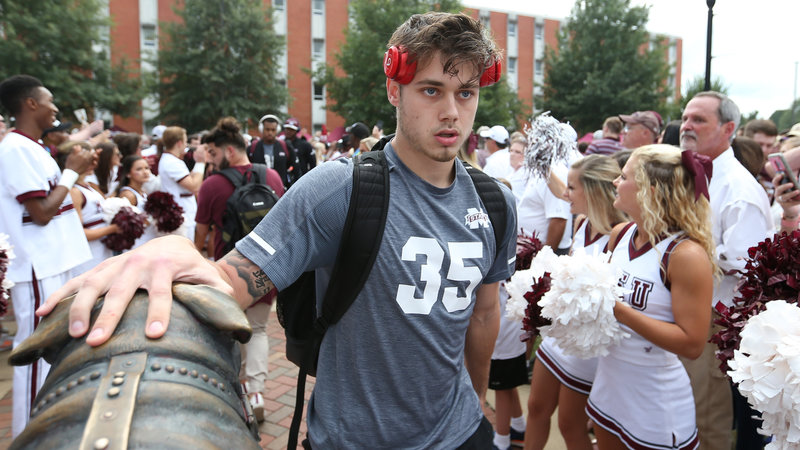 By GRANT LEDGISTER 
Some play because they love every part of the game. Others play for personal pride. Landon Guidry plays because of and for his family.
The former Independence Eagle and current Mississippi State Bulldog safety has played football since he was eight years old and knew from a young age that football was something he would want to try and do for a living and try and make some good happen with in the process.
Family has always been a big constant for Guidry. His family always supported him and his growth, even when times started to get tough.
"I never got anything I really wanted, but they gave me everything I needed," Guidry said. "Whether it was a little or not anything at all, they were there."
Guidry now wants to repay the kindness shown to him in the best way that he knows how: with football.
"I want to be able to provide for them like they provided for me," Guidry said. "I don't want my family to ever have to worry about anything else in their life, and I just want to be there for them and finish these next three seasons out. If the NFL is a possibility, then that is the route I'm going to take."
The sport is something of a family affair for Guidry, whose father played football at the University of Louisiana-Lafayette. However, there came a time where Guidry realized that he began to forge his own path in the game.
"I was following in my dad's footsteps as a little kid," Guidry said. "As I got older, I started to develop a love for it, and it wasn't just because my dad, it was because I wanted to."
He may no longer consider his father a primary motivation for playing the game, but Guidry cited his father as being his biggest help throughout his career. He realizes that his father still impacts his career in many ways.
"My daddy calls me up every day after practice and asks me how it's going," Guidry said. "He watches film, just like me and gives me tips since he was the one who trained me to get here. He's never going to steer me wrong"
Every great journey has a destination, and for Guidry, that destination was the NFL, a destination that became a real possibility when he found success at Independence. He was named to the 5-5A All-region team in 2016 and was a three-star prospect by the time it was all said and done.
Throughout his four years of play in high school, Guidry also made many memories on the field. Among them, his favorite was the semifinal game of the state tournament in his junior year, a 27-24 comeback win over Brentwood.
"We were down in the first half and pulled it together as a team," Guidry said. "It was a memorable experience."
In addition to memorable experiences, playing football and attaining a higher level of play is going to involve learning to make difficult choices and getting past certain barriers.
One of the first experiences and choices a player has to make is finding out where on the field one's talents are best suited, and Guidry found that to be safety. It is the position where Guidry says his ballhawking abilities are best used.
Nearly all except for the extraordinarily lucky athlete has to go through the major roadblock of how to deal with and recover from suffering a major injury. Guidry's time came in August 2017, when he tore his ACL in the final pre-season scrimmage and was forced to sit out the entire season.
"It was the most difficult moment of my career, but I'm blessed to have gone through it because I know God wouldn't put me through it if there wasn't a reason for it," Guidry said. "At the end of the day, football doesn't last forever and [it] just went to show that it can be taken away as easy as you got it the first time."
Now, two seasons removed from that injury, Guidry plans to use that experience to make the most of his remaining three years at Mississippi State and channel the lessons learned into the opportunities that arise for him.
Guidry knows that the first steps to this are setting attainable goals, being consistent, never getting too far ahead of or behind himself and taking advantage of having teammates at the same position, who are especially important to him.
"I have a certain mindset and certain goals that I have to achieve every single day," Guidry said. "It's the little things, the 'one at a time' mentality. Watching and learning from my teammates has definitely made me a better player."
Photo from Mississippi State Athletics.