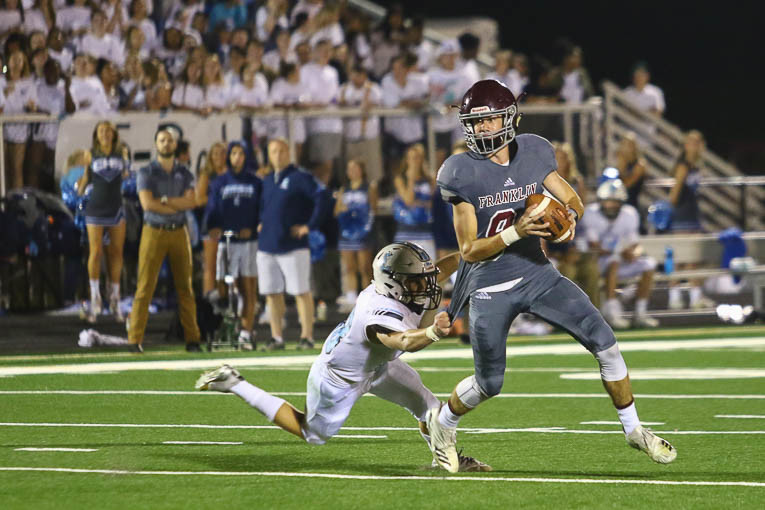 STORY BY CHARLIE BATEMAN | PHOTO BY STEVE WHEELER 
The Franklin Rebels squeaked out a victory in the annual "Battle of Franklin" against the Centennial Cougars Friday night with a rushing touchdown by senior fullback John Kirkpatrick to win 42-41 in double overtime.
"We just got together and said we were going to play as a family and put six in," said Franklin fullback John Kirkpatrick. "Luckily we did."
"John said, 'Give me the ball; I am going to score,'" added Franklin head coach Donnie Webb. "We would have given it to him on fourth down if we had to instead of kicking (a field goal)."
In the first quarter, Centennial got on the board with a five-yard rushing touchdown by senior running back Alex Steele. Franklin failed to score in the first frame.
The Rebels tied it up with less than a minute gone in the second quarter on a 11-yard rushing touchdown by senior quarterback Joshua Nichols.
With 8:44 remaining until halftime, Guy Lipscomb exploded down the field with a 65-yard touchdown to stretch the Franklin lead to 14-7.
At 1:11 remaining in the first half, Steele picked up his second rushing touchdown of the game to tie the score at 14-14.
Franklin continued the offensive shootout in the third quarter with a four-yard rushing touchdown from Kirkpatrick to push the Rebels lead to 21-14.
Nichols rifled a nine-yard touchdown pass to senior tight end Jake Willow to increase the Franklin lead 28-14.
In the first minute of the fourth quarter, Centennial's junior corner back Tucker Tremayne recovered a fumble to help the Cougars claw back into the game 28-21.
Centennial completed the comeback with an electrifying 20-yard touchdown pass from senior quarterback Grayson Marcel to senior running back Kevin Townsel to tie the score at 28 with four seconds remaining in the game.
In the first overtime, Centennial and Franklin each collected a touchdown for the score to remain tied at 35. Centennial scored on an 11-yard pass from Marcel to Townsel. Franklin had a three-yard rushing touchdown by Nichols.
Franklin took the lead in the second overtime with a three-yard touchdown run by Kirkpatrick 42-35.
Centennial answered with a three-yard touchdown run by Steele to put the Cougars within one point.
"If you would have told me number 21 (Steele) would have been held to under 50 yards, I would have said we would have won by two touchdowns," said Webb. "He (Steele) stepped it up and played like a man tonight."
The Cougars went for the two-point conversion and failed, giving Franklin the 42-41 victory.
"I am elated and just so proud of them that we kept fighting," said Webb. "This team has lost so many close games. I am just glad we came out smiling."
"This win means so much," said Kirkpatrick. "We won it last year, and to win it this year is an amazing feeling."
Centennial will battle Page on the road next Thursday.
Franklin will have a bye week before they face Brentwood on Oct. 18.
"We just need to get over this brutal seven weeks of football and enjoy some time off before we get ready for the Bruins," said Webb.