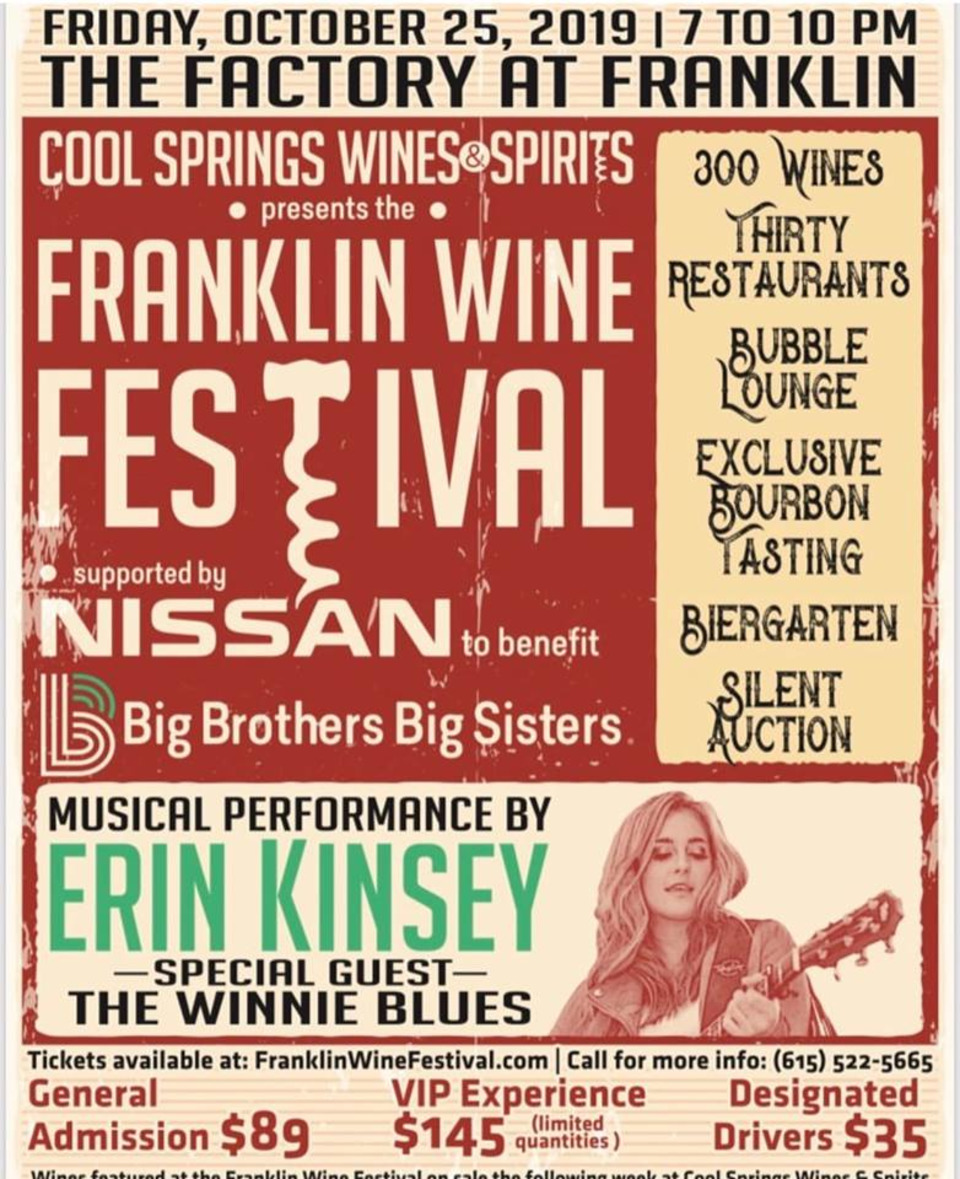 By CHRIS CHAMBERLAIN
This story first appeared in our sister paper the Nashville Scene.
Tickets are now on sale for one of the biggest wine events of the tippling calendar, the 15th annual Franklin Wine Festival on Oct. 25, 7 to 10 p.m., at the Factory at Franklin. Through the years, this premier wine event has raised more than $2 million for charity. The Factory will be filled with booths offering tastings of more than 300 wines, and food pairings from 30 local restaurants, at this event that benefits Big Brothers Big Sisters of Middle Tennessee.
The Franklin Wine Festival is a "truly grand" experience for both foodies and wine connoisseurs, says Melissa Hudson-Gant, CEO, Big Brothers Big Sisters of Middle Tennessee. "This regionally recognized event pairs extensive offerings by Nashville's finest chefs with selected wines from around the world," she continues. "Nowhere else will you have the opportunity to sample so many prestigious wines and culinary favorites while enjoying the best entertainment anywhere."
The Factory offers space for more than just eating and drinking; there will also be live entertainment and several special lounge areas that specialize in particular types of wines and spirits. The Bubble Lounge will feature a relaxing, lounge vibe while showcasing Champagne, prosecco and sparkling wines. The Whiskey Lounge will be located in the Jamison Theater, which will feature a saloon vibe with rustic wood, whiskey barrels and barn-wood bar tops where guests can enjoy a variety of exclusive tastings from the top whiskey, bourbon and scotch distributors. Fine cigars will also be available for purchase to enjoy on the patio. Finally, the biergarten will feature a variety of beers from local, regional and national breweries.
General admission tickets for this popular event are on sale now at FranklinWineFestival.com for $89. The VIP Experience is $145 and a Designated Driver ticket is $35. VIPs have the chance to walk the red carpet as they enter, plus they get early access to the event and silent auction.