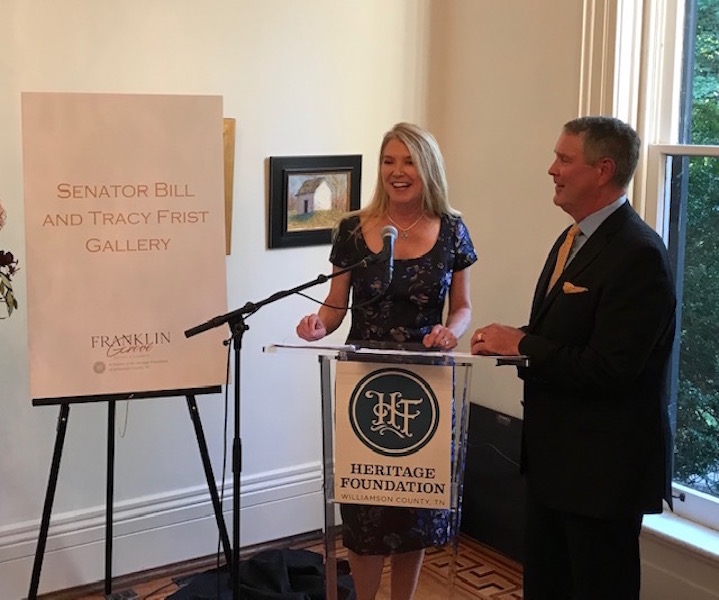 By JOHN McBRYDE
The main mansion at Franklin Grove Estate & Gardens was filled with supporters of the Heritage Foundation of Williamson County Wednesday as the organization hosted its reveal party for the 46thAnnual Heritage Ball scheduled for early October.
Several announcements and presentations were made as guests enjoyed hors d oeuvres and cocktails and wandered the rooms of the mansion on what was formerly O'More College of Design. Among those attending were Sen. Bill and Tracy Frist, relative newcomers to Franklin who have served as chairs for this year's Heritage Ball.
Bari Beasley, CEO of the Heritage Foundation, said the Frists have been champions of the nonprofit and preservation throughout Franklin and Williamson County. She also announced that one of the front rooms of the Franklin Grove mansion will be called the Sen. Bill and Tracy First Gallery.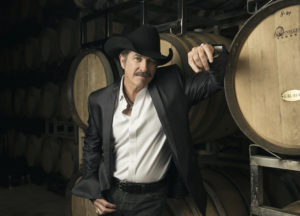 "Over the past two years as I've served as the CEO of the Heritage Foundation, Sen. Bill and Tracy Frist have been a constant for me," Beasley said. "They've been constant champions and supporters, constant voices in support of preservation, constant community leaders. Early in this Franklin Grove project, they showed a true interest in the campus. They knew what it meant for our community."
In acknowledgement of the recognition Beasley had announced, Sen. Frist said he and Tracy share the community's passion for the past, present and future.
"We came for what all of you represent, and it is a sense of time and a sense of place," he said. "You've got Main Street, you've got preservation, you've got conservation — but you also have progress."
Another key announcement of the night was that country music star Kix Brooks would be the headlining act at this year's ball.
"We are thrilled to have one of my closest friends and one of Nashville's greatest musical talents, Kix Brooks, performing at this year's Heritage Ball," Frist said in a press release. "Kix has a passion for preserving the history and rich fabric of our community and his music celebrates our Tennessee heritage."
This year's Heritage Ball theme is "Discovery – discover our past, our present and our future." The Frists and the Heritage Foundation team have worked closely with Amos Gott of AmosEvents to develop the vision and design of the historical evening. Additionally, G Catering will be providing the menu for the evening and McConnell Hospitality Group is creating the Ball's signature cocktail, The Franklin Grove, which pays homage to heritage and the flavors of fall, made with Old Hickory Straight Bourbon.
Each year, more than 800 guests gather to support and celebrate the work of the organization and to raise funds for future projects. In addition to a seated dinner, the event will also feature an online auction including items such as a VIP Pilgrimage Festival experience, a five night stay at the Ritz-Carlton at Palm Beach, a premium villa stay at Atlantis Harborside, lunch with Williamson County Mayor Rogers Anderson and club level seats to a Tennessee Titans game. The online auction is now live.
Presented by Pinnacle Financial Partners, the Heritage Ball will take place on Saturday, Oct. 5, beginning at 6 p.m. at Eastern Flank Battlefield Park near Carnton. To purchase tickets, visit www.williamsonheritage.org/heritageball.