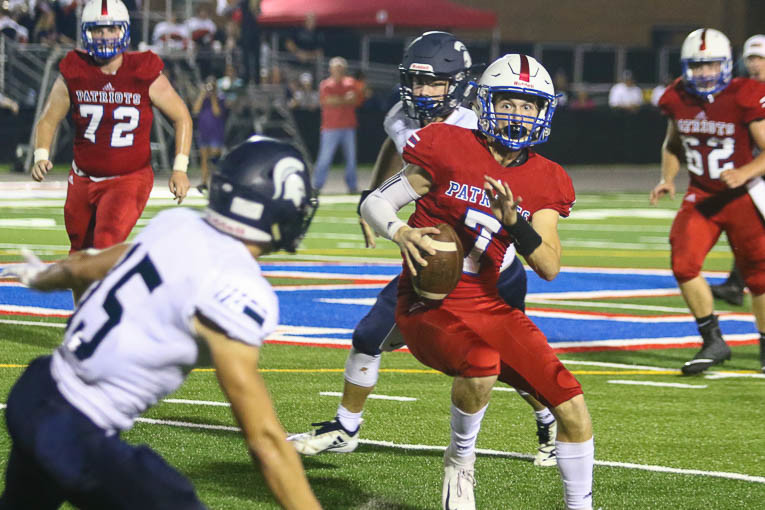 STORY BY CORY WOODROOF | PHOTO BY STEVE WHEELER 
The Page Patriots might've put themselves in top positioning for a Region 5-5A repeat.
The team topped a Destin Wade-less Summit Spartans 24-14, moving to 5-1 on the season.
The Spartans put up a valiant effort despite not having the quarterback Wade, who left the team's Homecoming game late last week with a high ankle sprain.
His twin brother, Keaten, held down the fort in Destin's absence, primarily leading the Spartans offense in the rushing attack (179 yards, two touchdowns).
Though, he couldn't quite outdo the combo of Page's QB Cade Walker (146 yards passing, two touchdowns) and running back Bubba Johnson (143 yards, one touchdown).
Walker found Simon Simmonds for a 30-yard score in the first quarter to get the early lead, but Keaten Wade matched him with a short touchdown run in the second quarter to tie things up.
The Patriots QB found his favorite target, Miles Bonn, with about four minutes to half to take Page into half with the  14-7 lead.
Keaten Wade, though, rushed for a 52-yard score to match it late in the third quarter to get the Spartans back to a tie, 14-14.
Though, Page would take control late in the ball game, with Watson rushing for his lone touchdown and kicker Chase Tidmore nailing a field goal to ice the team for Page, 24-14.
Colby Burns got a late pick on Keaten Wade's pass to set up Page for their Tidmore field goal.
Page also fired off a roughly six-minute drive in the fourth to keep the Spartans offense off the field and get Watson his tie-breaking score. Their defense stopped Summit's offense to start the fourth with a stop after a five-minute push.
The victory gives the Patriots wins over Summit and Shelbyville Central, which bodes well for their quest to keep hold of the region. Nothing's decided yet, but having region wins with your two biggest competitors certainly helps.
Page's Simmonds had 46 yards and the touchdown on two catches to lead all receivers, while Bonn had a touchdown and 30 yards on six receptions.
Summit's George Odimegwu, back after being out last week, had two catches for 15 yards as he gets acclimated back into the Spartans' game plan.
The Spartans take their first 2019 loss Friday night and now sit at 6-1.
They will hope Destin Wade's ankle continues to heal as the team hosts Franklin Co. next week. Their pivotal away game at Shelbyville Central awaits Oct. 18.
As for Page, they have a quick home turnaround against Centennial this Thursday.