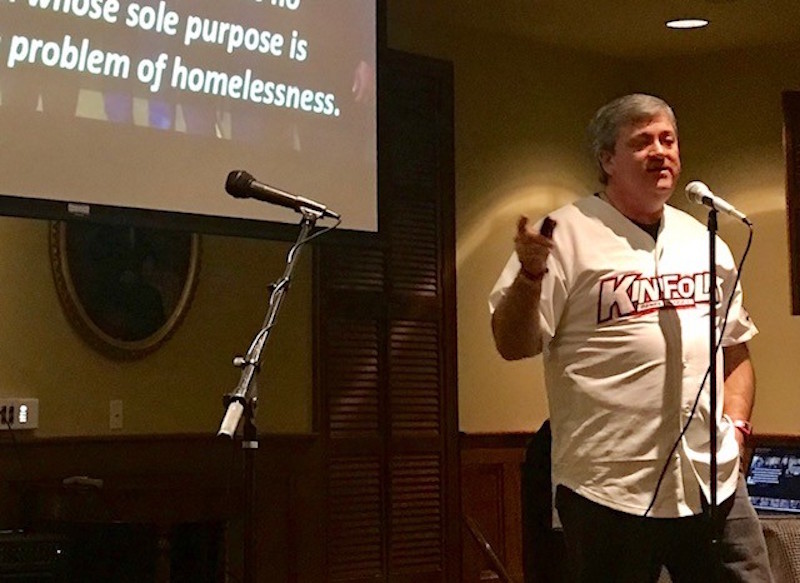 PHOTO: Kevin Riggs, pastor at Franklin Community Church, speaks before a crowd that had gathered last winter to hear about plans for a permanent homeless shelter in Franklin. / File photo by John McBryde
By JOHN McBRYDE
A sizable monetary gift from a Franklin couple will serve as a significant jump-start on finding land or a building that would work for a permanent homeless shelter in Williamson County.
That's how Franklin Community Church Pastor Kevin Riggs assessed the $250,000 donation that was given to the project recently. The money was pledged by Rhonda and David Kemp of Franklin.
"It opens up some options for us," Riggs said. "I assume we're looking at a $2-3 million project. But if we found a piece of land or if we found a building, that's enough money [the pledged amount] to put an option on it, and then raise money for the rest of it."
Riggs, a longtime homeless advocate, is one of the leaders of the Williamson County Homeless Alliance that was founded last winter. The main mission of the organization, which is comprised of business, community, government, and religious leaders, is to find property that can be turned into a newer-model homeless shelter that would bring a holistic approach to the problem of homelessness.
Riggs, who estimates there are more than 1,000 homeless people in Williamson County, said the group is looking for a piece of land or perhaps a warehouse within the corridor of the Mack Hatcher Parkway that wraps around much of Franklin.
After a community meeting was held last February announcing the campaign to find a suitable place for a permanent homeless shelter, the group has made steady strides toward its ultimate goal. For instance, in May Riggs had met with three different groups of people who were interested in being major sponsors and donors for the project.
But the key turning point in the process was the donation from the Kemps. Rhonda Kemp had inherited her family farm in Giles County upon her father's death in February, and after taking time to consider what she wanted to do with some of the money it brought, she learned about the Homeless Alliance and what it was trying to accomplish.
"That was the big news," Riggs said of Kemp's donation.
Meanwhile, Riggs said Monday he never would have thought that when the alliance's emergency weather-relief shelter opened Aug. 1, that it would still be needed much of the way through September and into October. With Franklin First United Methodist Church serving as the location, the shelter is designed to hold up to 12 guests whenever the temperature reached 90 degrees and above or 32 and below.
Temperatures are expected to be in the 90s through Thursday this week, and by then the shelter will have been opened 39 nights from Aug. 1 to Oct. 3. It has served 31 individuals at a cost of around $24 per person per night. The weather forecast looks better beginning Friday, but days in the 90s aren't unheard of for October and nights below freezing could be coming before much longer.
Riggs did add that another church is expected to serve as a shelter soon, and three others are in discussion about participating.