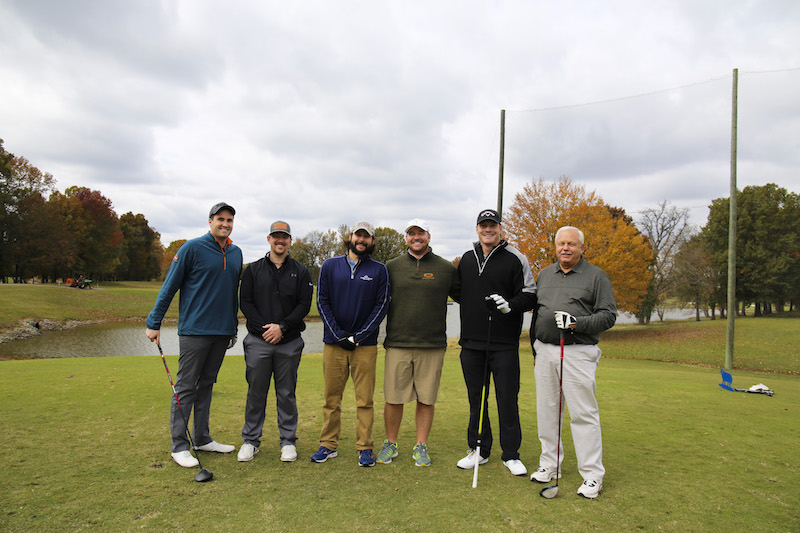 PHOTO: Stephen Huff (third from right) gathers with friends and family at the 2018 Huff Project Golf Scramble. / Photo submitted
STAFF REPORTS
The Huff Project, a Williamson County-based nonprofit founded by former professional athlete Stephen Huff, will host two events this fall to raise funds for lung cancer early detection and research.
The organization has set its "Chip-In" for Lung Cancer Golf Scramble and Songwriter Night for Oct. 25 and Nov. 22, respectively.
A nonsmoker diagnosed with inoperable stage four lung cancer at age 29, Huff and his wife, Emily, turned their devastation into determination and founded The Huff Project in 2018. In its first year, the nonprofit raised nearly $65,000 in ticket proceeds from the golf tournament and songwriter event.
In early 2019, The Huff Project donated a portion of these funds to the Vanderbilt-Ingram Cancer Center to support a lung cancer research initiative being conducted by a group of physicians in Nashville, St. Louis and Louisville.
"Awareness is key to furthering our mission and making progress toward earlier detection and eventually discovering a cure for lung cancer," Huff said. "We are fortunate to be surrounded by a very supportive community and to have the opportunity to share The Huff Project's story through these fundraising events."
The "Chip-In" for Lung Cancer Golf Scramble will take place at the Hermitage Golf Course. The 18-hole tournament includes pre-round breakfast and post-round buffet, snacks and refreshments throughout the day, and various event gifts and sponsored swag.
Registration and breakfast will begin at 10:30 a.m. with a "shotgun" style start at noon. The cost is $150 for an individual player or $600 for a team of four. Registration is encouraged by Oct. 18 at www.thehuffproject.org.
The Huff Project's Songwriter Night will feature some of Nashville's top songwriters including Tony Lane, Billy Montana, Randy Montana and Autumn McEntire at The Factory at Franklin's Liberty Hall.
The doors will open at 6 p.m. allowing attendees to enjoy a cash bar before the show begins at 7.
Tickets options include $50 for general admission, $125 for VIP and $1,000 for a Preferred Donor table for 10 people. Food, beverage and seating options vary by tier; go to www.thehuffproject.comfor more information and to purchase tickets.
Lung cancer survivors are invited to attend and participate in both events for free and should email [email protected] for more information.