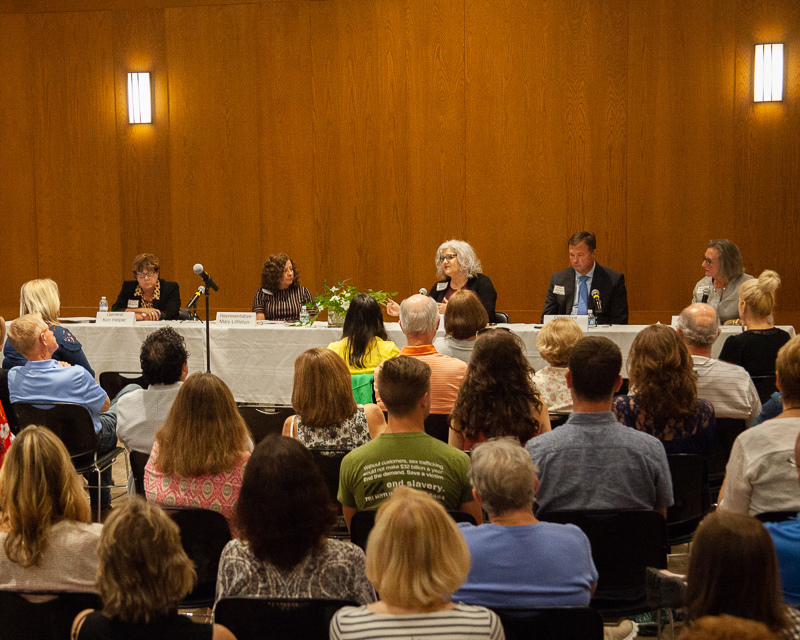 By MATT MASTERS
End Slavery Tennessee hosted a panel discussion on human trafficking in Williamson County on Monday night at the John P. Holt Brentwood Library. 
The panel included District Attorney for the 21st Judicial District of Tennessee Kim Helper, District 78 State Representative Mary Littleton, Franklin Police Department Detective Jeff Rowe and End Slavery Tennessee CEO-Emeritus and founder Derri Smith.
The panel was moderated by author Annette Valentine and was introduced by Janice C. Parmar.
The panel discussed the challenges, realities and tactics of combating human trafficking across Middle Tennessee, especially the challenges of public perception that often see more economically affluent areas such as communities in Williamson County overlooked by the general population.
Rowe pointed out that Franklin was the location of a 2014 arrest of a mother and daughter in connection with a prostitution ring at the Golden Butterfly Spa in Cool Springs.
Helper cited several human trafficking cases in Brentwood, including pointing out that Brentwood was one of the locations where an arrest was made in connection with human trafficking around the NFL Draft that was held in Nashville in April. 
Helper would not comment further on the ongoing case, but according to the Tennessee Bureau of Investigation, authorities arrested a woman who allegedly brought three juveniles from Memphis to a Brentwood-area hotel for sex.
"The challenge you have is, often times, and this may be more Williamson County, but having to educate the jury that this victim is not going to be the little cheerleader, sorority girl that you might anticipate or want to have to feel sympathetic to as a victim," Helper said. "Often times it is going to be someone who has led a harder life who is still addicted to drugs or has a lot of challenges that will come out during that testimony, and it our job to say, you know what, that's OK. She's still a victim."
Smith said that education, sympathy and advocacy all play a role in helping to both prevent human trafficking and facilitate healing after instances of trauma.
"The way to think about what we do it turning off the tap of human trafficking. TAAP — Training, Aftercare, Advocacy and Prevention," Smith said.
Smith said that End Slavery Tennessee works with law enforcement to help support victims throughout the legal and healing process through a variety of means including therapy and housing.
Rowe said that one step that law enforcement has taken is to better understand how to assist in rescuing victims as well as arresting perpetrators. 
Some of that, Rowe said, is understanding the multitude of layers in human trafficking cases, such as the commonality of no good adult role models in victim's lives, especially fathers, as well as understanding how to give victims a sense of empowerment in order to let them trust law enforcement to help them.
"Our focus changed from arresting a person for prostitution to a victim-centered approach," Rowe added as he spoke on the evolution of the Franklin Police Departments response and investigation tactics of trafficking cases.
Smith said that thanks to work done by Rep. Littleton and other law makers, Tennessee has become number one in the nation in terms of strengthening laws against human trafficking. 
That strength, Littleton said, continues to grow as communities across the state expand their understanding of the issues and reach of human trafficking and the understanding that communities can work together to combat slavery.
In September, End Slavery TN will hold a benefit dinner that will feature guest speaker Charles Bone, a Nashville attorney who most recently represented child sex trafficking victim Cyntoia Brown, who was released from prison on Wednesday after a successful bid for clemency.
The event called A Voice for the Oppressed will take place at 6:30 p.m. on Sept. 7 at the Brentwood Country Club.
Bone will discuss the unique challenges faced by victims of human trafficking from the legal perspective and others.
Brown was originally sentenced to life in prison after she was convicted of the 2004 killing a 43-year-old man who had picked her up for sex when she was 16.
During Bone's representation of Brown, the case gained international attention across social media communities and gained the support of celebrities like Kim Kardashian leading to Brown's release after 15 years.
The dinner will be $80 per ticket with guests choosing from a menu that includes a choice of grilled salmon, herbed grilled chicken breast or Portobella Marsala. Entrees will be served with a garden salad, haricots verts, cheesy au-gratin potatoes, rolls and a brownie supreme dessert.
A cash bar will also be available.
Tickets can be purchased here.
More information about End Slavery TN can be found at endslaverytn.org