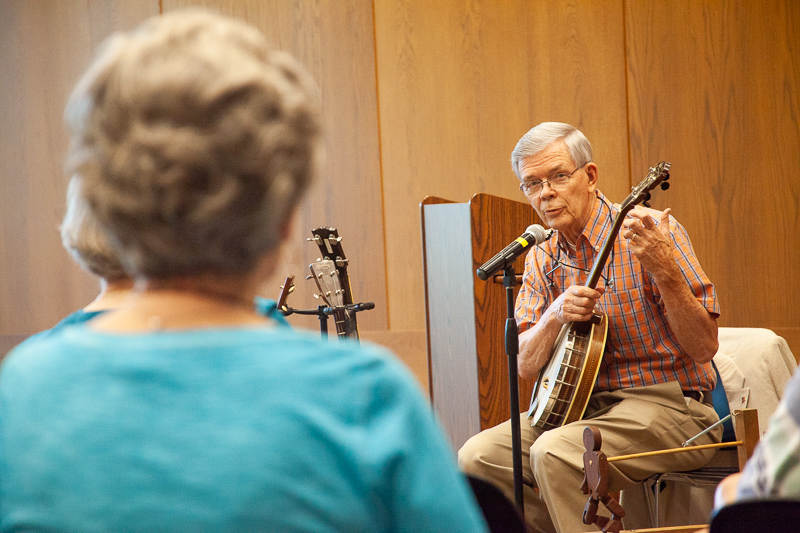 By MATT MASTERS
The John P. Holt Brentwood Library hosted folklorist, musician and educator Dr. Fred Frawley on Thursday evening who gave a history of 4-string banjos and guitars along with traditional folktale storytelling to an audience of about 25 people.
Frawley, a native of Florence, Ala., began playing music and soon purchased his first guitar at 16 years old after a failed attempt at joining his high school basketball team.
Frawley said that it was the 1958 debut, self-titled album by The Kingston Trio, who are often credited for their role in launching the folk revival, that led him to his first guitar.
"So I took my Kingston Trio album and walked into my music store in Florence, Ala., and I said, do you have one of these? And he had a Martin Tenor guitar," Frawley said. "What were the chances that my little store in Florence, Ala., had an 0-18T tenor? So this instrument has been with me a long time."
He bought the guitar for $10 up front and $10 a month for the next nine months, but what it didn't have was a strap. So Frawley fashioned a black leather belt to the instrument to act as a strap, an addition that remains on the guitar to this day.
In addition to his prized guitar, Frawley showed off a variety of banjos and other guitars, some that he owned and some that he said he was simply the temporary custodian over.
The now 75 year old said that the tradition of storytelling, especially coupled with music, helps children to develop their imagination, especially as they transition from reading picture books to traditional books, and connects people with a rich history in both Middle Tennessee and throughout the South.
"A lot of those stories came over from the British Isles and kind of settled into North Carolina and the Virginia area, areas with rich storytelling or East Tennessee, because that's what people did after the workday or schooldays. They would sit around after supper and tell stories, you know, they weren't watching screens," Frawley said.
More information about events at the John P. Holt Brentwood Library can be found here.