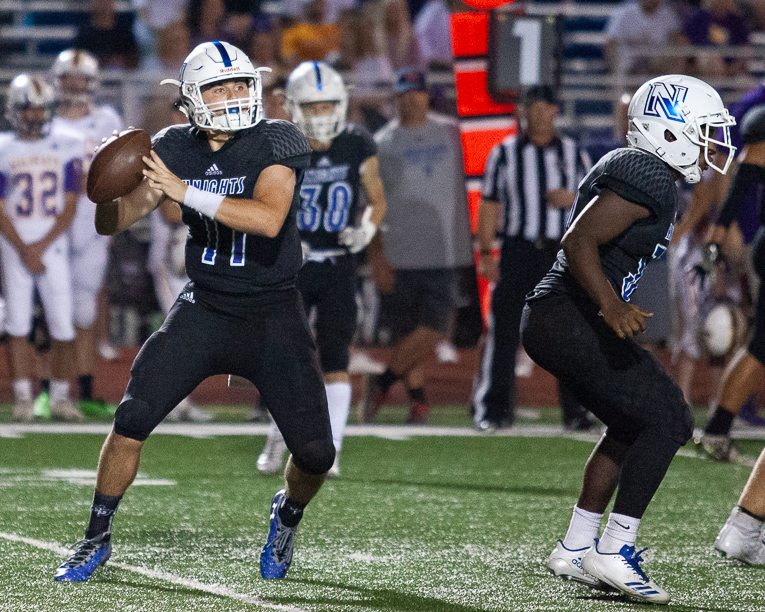 STORY BY CHARLIE BATEMAN | PHOTO BY MATT MASTERS 
The Nolensville Knights football team (7-0) cruised to a 51-6 victory over the Glencliff Colts on Thursday night at Nolensville High School.
"It is huge to still be undefeated," said Nolensville quarterback Ryder Gallardi. "It is something we have never done before. I am so proud of our team."
"Anytime you get a win, it always feels great," said Nolensville head coach Paul Derrick. "We try to prepare the right way each week. I believe our best football is still out there for us."
In the first quarter, Nolensville got the scoring spree started with a 22-yard touchdown pass from junior quarterback Ryder Gallardi to wide receiver Colton Dobson.
With 11:20 remaining, Galardi threw a 20-yard strike to Parker Price to increase the Knights lead 14-0.
The scoring party continued with a 12-yard rushing touchdown from Nolensville senior running back Ryan Pistulka as the Knights kept charging ahead 21-0.
The Knights kept raining touchdowns with a 48-yard missile from Gallardi to senior wide receiver Tim Coutras to extend the Knights lead 28-0.
"We have a great team around us and we were able to execute," said Gallardi.
"Offensively, we wanted to start fast and be clean, and that is what our team did," added Coach Derrick. "Ryder was able to lead the charge and distribute the ball to a few different people. I was pleased with the way he (Ryder) approached tonight."
The scoring magic continued with a four-yard touchdown run by Knights freshman running back Samson Johnson to increase the Nolensville lead 34-0 (due to a missed extra point).
"He (Johnson) is a special talent and is only going to get better," said Derrick. "He (Johnson) has gained more confidence week to week in running the football."
The point parade started in the second quarter with Johnson's second touchdown run on a five-yard dash as the Knights flexed their muscles 41-0.
With less than two minutes remaining, Nolensville junior linebacker Toli Rich recovered a fumble and punched it into the end zone to stretch the Knights lead to 48-0.
In the third quarter, Nolensville tacked on a field goal from junior kicker Nick Beattie to make the score 51-0.
The final scoring drive in the fourth quarter came on a Glencliff 65-yard touchdown pass from quarterback Markyl Dudley to wide receiver Keith Miller to put them on the board 51-6.
The Knights defense continued their impressive performance, holding Glencliff to six points.
"Our defense fights each week for us and never stops, said Galardi. "I am so proud of them."
Nolensville will take on Maplewood at home next Friday, a game with major region ramifications.
"It is a team we are familiar with, having played them four times in the past two years," said Coach Derrick.
"We are very aware of the challenges that they bring, being a very physical and athletic football team. We know if we win this game what is at stake. We are trying to make sure we focus on a win next week."