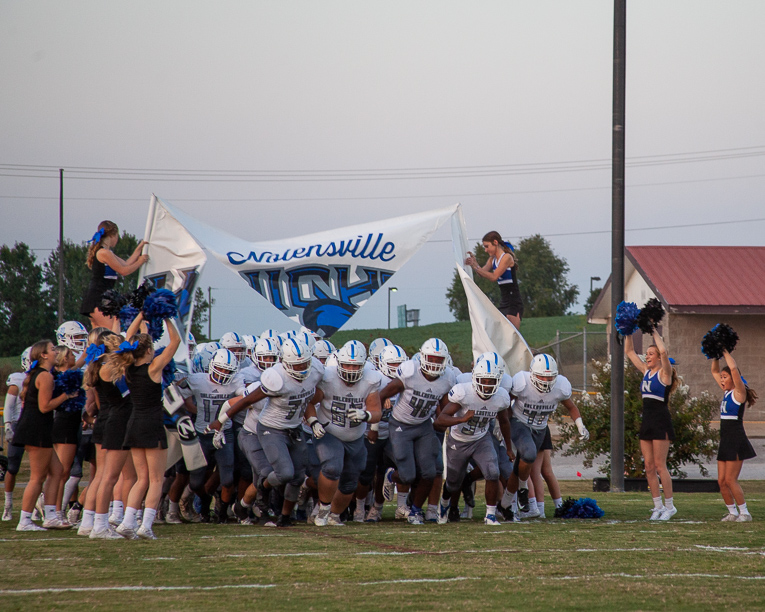 STORY BY KEVIN WARNER| PHOTO BY MATT MASTERS 
The game of football breaks down into three phases: offense, defense and special teams.
When teams do all three well, winning football games becomes easier.
It's a big part of why Nolensville High School has made it look easy in the first few weeks of the 2019 season.
They posted a 3-0 record for the first time in school history as they entered their bye week last Friday and outscored their first three opponents 130-27.
Second-year head coach Paul Derrick said he sees all three phases working well for the Knights.
"Think we've just played really good complementary football in all three phases," Derrick said.
"At times our offense has been able to score some points to get out in front of the opponent, other times our defense has had to step up and hold them while our offense got on track, and I've really been pleased with our kicking game."
Senior kicker Luke Jenkins and junior punter Nick Beattie play big roles in allowing the Knights to play complementary football.
Jenkins' ability to not only take field goals and extra points, but to consistently get touchbacks giving the opposing offenses a long field.
Beattie does the same in the punting game, often flipping the field when maybe their own offense failed to move the ball.
Jenkins scored the first three points in for the Knights in their 32-14 when over Watertown High School in Week Two with a 30-yard field goal. In the first three games this season Jenkins went 17-17 on extra points and booted 12 touchbacks.
The defense, led by converted senior safety Tim Coutras, set up that lone Jenkins field-goal his first of four interceptions on the season—complementary football.
Coutras, a Liberty University commit, had eight interceptions year ago when he played corner and looks well on his way to surpassing that this season. He compliments his stellar defensive skills with superb offensive ones, also scoring four touchdowns through three games at wide receiver.
"He's one of the best football players that I've ever been around," Derrick said. "Being able to play offense and defense, he can catch it, he can run it…Were going to continue to try to get him the ball in a variety of ways, and on defense where going to try to put them in the best position to make plays because that's what he does. He's a playmaker."
The Knights found a running game to complement their senior playmaker on offense.
Going into the season, many had questions as to who would replace 1,000-yard running back Colton Dooley in the backfield.
Junior Ryan Pstulka and freshman Samson Johnson answered those questions thus far with their performances in the first three weeks the season.
Each has found the end zone at least once in each of the first three games for Nolensville and their unique running styles give the Knights offense different looks in the running game.
Pstulka gets the downhill, tough running yards, while Johnson can put his foot in the ground, make a cut, and allude defenders in space.
Derrick had doubts if his young freshmen would be ready for the start of this varsity season, but he likes what he seemed so far from the youngster.
"His slashing style and Ryan's downhill style have really complemented one another and help us be successful," Derrick said.
Despite all the good things the Knights accomplished in the first three weeks of the season, Nolensville looks to use their early bye week to become more consistent. Derrick felt that they left some points on the field in their first three games.
The Knights will need those points as they enter the meat of 4A region play in the coming weeks.
They'll come off the bye week to host Lawrence County High School, and then they will host region foes Tullahoma High School (Oct. 4) and Maplewood Comprehensive High School (Oct. 18) before traveling Marshall County High School to close out the season on Nov. 1.
In between, they will face tough matchups against Columbia Central High School on Sept. 27 and Glencliff High School on Oct. 10 and a trip to Williamson County 6A foe Franklin High School on Oct. 25.
While the early bye week means six straight weeks of tough games and it won't give the Knights a chance to rest up late in the season, Derrick believes the early bye will help his team fix mistakes that happen early in the season, which will really help the Knights and they make a push for their third-straight playoff appearance.
"I will say one thing about having [the bye] early, it allows you to kind of reflect on the first few ballgames of the year," Derrick said. "You got a pretty good idea of what you got now. You never know what kind team are going to have until you go out and play…For us it was early, and now we just gotta be geared up and ready for the grind."