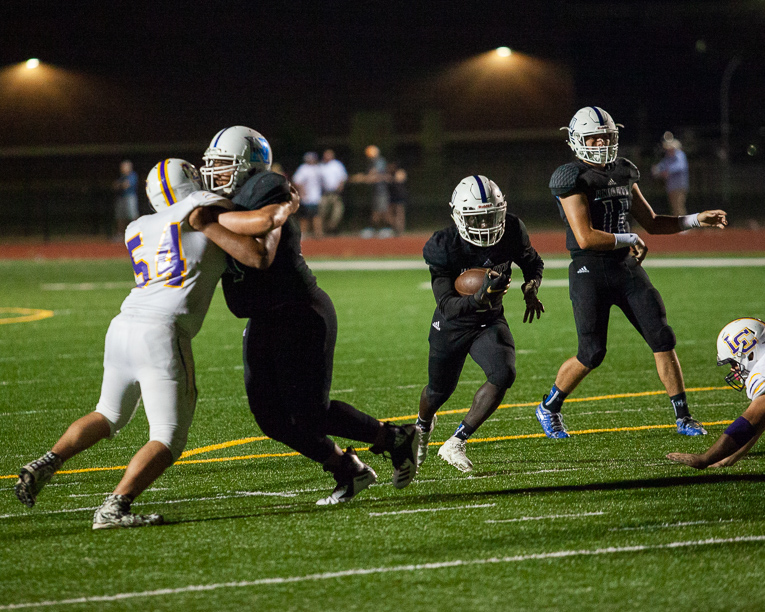 STORY BY CHARLIE BATEMAN | PHOTO BY MATT MASTERS 
The Nolensville Knights executed a superior performance Friday night, conquering the Columbia Central Lions 28-0 at their Homecoming game.
"We have great town support around us and a great community," said Nolensville quarterback Ryder Galardi. "There is nothing like it."
This win places Nolensville at a perfect 5-0 on the season.
It was a defensive struggle in the first quarter as both sides could not find a way to punch the ball into the end zone.
With 7:55 remaining in the second quarter, junior Ryder Galardi delivered a strike down the field for a 58-yard touchdown to senior wide receiver Tim Coutras to put Nolensville on the board.
Galardi threw a jump ball in the end zone from ten yards out that Coutras caught for his second touchdown of the game, with a little over two minutes remaining in the second quarter.
"We just try to move him around and put him in positions to make plays on both sides of the ball," said Nolensville head coach Paul Derrick.
The fireworks continued with 19 seconds before halftime with a 62-yard missile from Galardi to junior wide receiver Colton Dodson.
"I am just proud of the way our team bounced back in the second quarter and made plays," said Galardi.
"We knew it was going to be a challenge to run, because they (Columbia Central) have a good defense up front," added Derrick. "We wanted to open up some things in the passing game, and Ryder did a great job executing throws."
Both teams were held to no points in the third quarter.
In the fourth quarter, senior running back Ryan Pistulka drove his way through the defenders with a three-yard rushing touchdown into the end zone to seal the victory 28-0.
The Knights defense accomplished a shutout for the second week in a row.
"It takes all eleven guys to do the right thing on defense," said Derrick. "That is what we preach and when you don't make the right play, the other team creases you. I can't be disappointed with two straight shutouts."
Nolensville will face Tullahoma at home next Friday.
"There's always going to be things we can improve on," said Derrick. "We have another good football team coming in here. I believe our best football is still out there, if we can continue to work the right way."