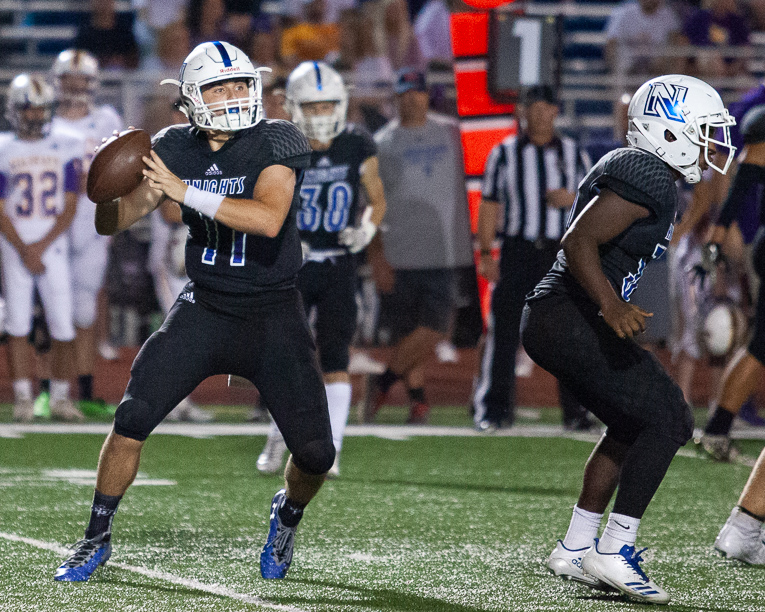 STORY BY CHARLIE BATEMAN | PHOTOS BY MATT MASTERS 
The Nolensville Knights football team dominated region rival Lawrence County Wildcats on Friday night 43-0 at home.
It gets the Knights to 4-0 on the season.
"It is the greatest feeling in the world, and there is nothing like it," said Nolensville senior Jeffrey Weisel.
"Our goal was to get to 2-0 in the district, and we did that tonight," said Nolensville head coach Paul Derrick. "I think there is a lot of things we did well. I am happy to be 2-0 in the region."
In the first quarter, Nolensville senior running back Ryan Pistulka started the potent rushing attack with a five-yard rushing touchdown to put the Knights on the board 7-0 with 5:24 remaining.
With 37 seconds remaining in the first quarter, senior tight end Jeffrey Weisel punched in a four-yard rushing touchdown. The Knights also tacked on a two-point conversion to extend their lead 15-0 over the Wildcats.
After a successful onside kick with 12 seconds remaining in the first quarter, the Knights completed a rushing touchdown from senior Tim Coutras to put the pedal to the medal 22-0.
Nolensville freshman running back Samson Johnson kept the offensive outburst alive with 9:40 remaining in the second quarter by scoring on a ten-yard rushing touchdown to increase their lead to 29-0.
In the third quarter, the fireworks continued for Nolensville with an eight-yard rushing touchdown from Johnson to push the lead to 36-0.
The final score for the Knights came with 10:10 remaining in the fourth quarter on a three-yard touchdown pass from junior quarterback Ryder Galardi to Weisel to make the final score 43-0.
"We just came out here and executed our game plan to the best of our abilities and we got the job done," said Weisel.
"We were able to be a little more balanced tonight running the football, which opened up plays in the passing game," added Derrick. "We wanted to play a clean football game offensively and were able to do that."
Nolensville's defense shut out the Wildcats and held them to zero points throughout the contest.
"Anytime you can get a shutout in football these days it is a big deal," said Derrick. "It is never our goal to get a shutout, but if we do the right things, read our keys, do our job and play hard, that is always a possibility."
Nolensville will have a homecoming game against Columbia Central next week.
"I hope we come ready to play and show some grit and fight," said Derrick. "Columbia likes to run the ball and is a very physical football team. This game will be a big test for us."