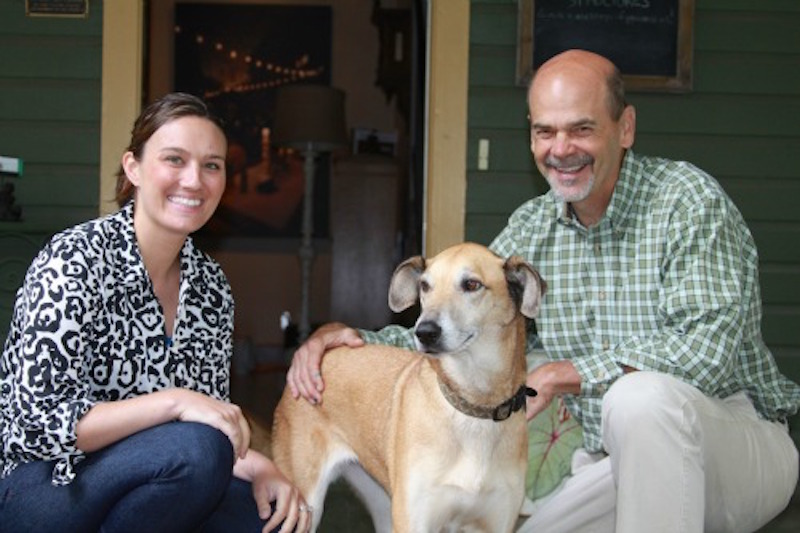 PHOTO: Ernie Reynolds started his Franklin company, Outdoor Classic Structures, in 2005, and six years later Nikki Schmidt joined him as a business partner. With them is Reynolds' dog, Holly. // Photo submitted
By JOHN McBRYDE
Ernie Reynolds, founder and president of the Franklin company Outdoor Classic Structures, can be seen as a living embodiment of the chicken or egg theory.
Has his longtime success in business come in spite of his being a creative free-thinker, or has his creative mind helped lead him to make sound business decisions through the years? It's a yin and yang kind of question.
"I've always entered business from the design side and made decisions on what I wanted the business to be like, ahead of how it would actually function on the monetary side," Reynolds explained. "But I do give credit for the business running well over all these years for being the son of a banker. My dad made me well aware that it's not just about debits on the left and credits on the right, but it's about cash flow and staying one step ahead of the guy who's going to stick his hand out for the payroll.
"We've been fortunate enough to be in a community that appreciates what we're trying to do and we've never wanted for work."
Spoken like a true businessman, one who has moved to Tallahassee this summer to begin teaching at Florida State University and work toward getting his Ph.D. in creative writing over the next four years. Reynolds got his undergraduate degree from Furman University in South Carolina and master's from Belmont University and the University of Tampa.
It may be a stretch to call Reynolds a Renaissance man, but as someone who started his own landscape business as a teenager, coached softball on the collegiate level, participated in prestigious writing workshops and just recently won a literary award sponsored by Vanderbilt University, it's not too far out of line.
Award for writing
Reynolds, 59, who grew up in Brentwood on a 2-acre horse farm his parents bought in 1963, caught the writing bug at a fairly young age. It's been his main creative outlet ever since.
"I've been writing pretty much all my adulthood," he said. "The writing that excites me as a reader is literary short fiction. It's up to somebody else to say [my writing] is literary, but it is short."
Judges in a writing contest known as The Porch, a nonprofit literary arts organization in Nashville, were impressed enough with Reynolds' writing that they awarded him the 2019 Porch Prize. His winning short story, titled "The Marine," is published in the Nashville Review, a Vanderbilt magazine.
Reynolds has also participated as a contributor at the Sewanee Writers Conference at the University of the South and the MTSU Writers Loft.
When Reynolds was in high school, he started a landscaping company that he owned and operated until he was 40, at which time he sold it and turned to a career in teaching. He also coached softball at Brentwood and Ensworth high schools, and later at Middle Tennessee State University and Trevecca University.
"I played sports through my childhood and early adulthood," Reynolds said when asked how he got into coaching. "I began coaching as an amateur in the Brentwood Civitan Club."
'Similar personalities'
As it happens, that's where he met a young ballplayer who years later would become his business partner at Outdoor Classic Structures. Now married and with a young daughter, Nikki Schmidt said joining up with Reynolds in his company was a natural.
"He was a coach to me then and he coached me in high school," said Schmidt, a graduate of Brentwood High School and the University of the South Sewanee. "He remained a mentor to me.
"I worked for a high-end tile and stone company in Nashville, and that's how I started in design and project management. With my background, he asked me to come on board to help."
That was in 2011, six years after Reynolds had started his company.
"We would just work as a team and it blended really nicely together," Schmidt said, "and we always ended up with satisfied customers and great projects."
Schmidt has primarily worked as a designer and a project manager, and now that Reynolds is off to college once again, she is taking over the shop as general manager.
"We have very similar personalities in that we both have creative minds but also know project management as well," she said.
Or as Reynolds put it, "Nikki and I are somewhat a rarity in that we're both English majors who have jobs."