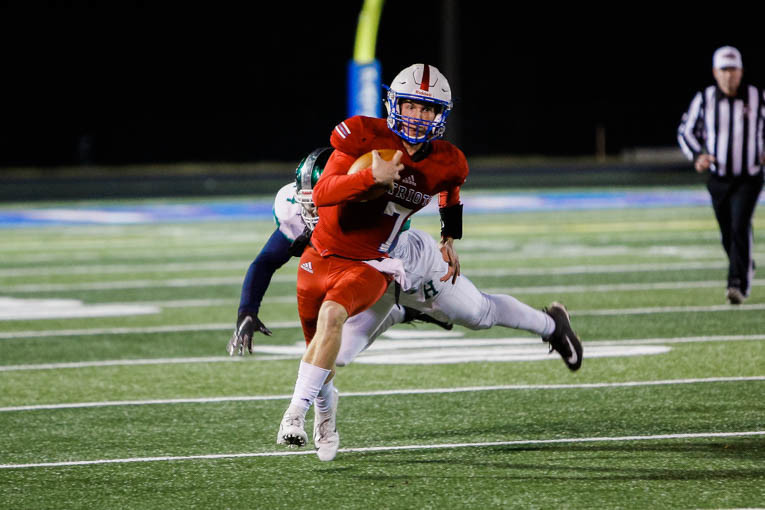 STORY BY MITCHELL STEPHENSON | PHOTO BY DEB SCALLY 
The Page Patriots hosted the Centennial Cougars in this WillCo Thursday Night showdown.
Page who currently is the leader in Region 5-5A looked to carry their momentum after last week's exciting win over highly-ranked region foe Summit.
Centennial was looking for some momentum after back-to back heartbreaking losses to Region 5-5A team Shelbyville Central and Franklin. It was a hard-fought contest, with Page winning 28-14 at game's end.
With 7:19 remaining in the first quarter, Page quarterback Cade Walker electrified the crowd with a 20-yard touchdown run to give the Patriots an early lead.
In the second quarter Centennial fumbled on the first play and was recovered by Nick Hurd giving Page the ball at their own 44 yard line.
Page continued the run game as Bubba Johnson had bruising runs on five plays, taking the ball deep in Cougars territory. And at 6:55 to half, Johnson scored on a one-yard run.
The Patriots extended their lead to 14-0. Johnson ran for 45 of the 56 yard on the drive.
Page held Centennial to a three-and-out then got the ball on the Cougar 49 after a punt. The Patriots continue the momentum with the run game.
Walker continued to electrify the crowd with a 28-yard run, setting up first and goal at the four yard line. On the next play he ran it in, giving Page a 21-0 lead with 1:43 left in the half.
Centennial got a blocked kick before half, but Page still had the 21-point lead at the break.
The difference at half was Page had 168 rush yards off 25 carries.
While Centennial had 48 yards off 12 carries. Walker lead the way with 96 yard while Johnson had 72. By the end of the game. Walker had 103 yards rushing while Johnson finished with 84 yards.
In the second half Centennial made an adjustment.
Rotating in Alex Steele at running back to pound the ball along with starter Desmond Smith's speed. Steele normally plays tight end and linebacker.
With 2:20 to go in the third quarter, Grayson Marcel hit Alex Pierz on a nine-yard touchdown pass, making it 21-7.
At 10:26 in the fourth quarter, Walker matched it as he hit Blanne Burrow for a 15-yard touchdown pass. And after that seven-play, 80-yard drive, it was 28-7 Patriots.
But the Cougars weren't done yet. They drove down the field hit short passes and running Steele for huge chunks of yards. He topped it off with a 14-yard power run, breaking several tackles and making it 28-14 with 7:09 remaining.
Centennial continued to fight. Even stopping Johnson on a 4th and 1 run while Page attempted to run out the clock. But the Patriots would hold and win their sixth game of the year.
Page Coach Charles Rathbone commented on his teams performance.
"Our defense played lights out," he said. "Centennial is a very good athletic team. We can't match up with some of those athletes but our guys came out and made tackles.
"Cade Walker played great tonight. Centennial were dropping six into coverage, and he got into the open and was finishing runs. And Bubba ran hard up the middle. I'm just proud of the team. They played hard and did a good job tonight."
Centennial Coach Matt Kriesky gave his thoughts on the game.
"It was two totally different halves," he said. "We came out and made too many mistakes early in the first half. And it's hard to keep coming back. I thought the kids showed great character.
"They played hard, and work hard all the time. We came back and put 14 on the board in a hurry up mode pretty much the whole second half, and I was proud of them."
Page faces Columbia Central next week, while Centennial has its bye.