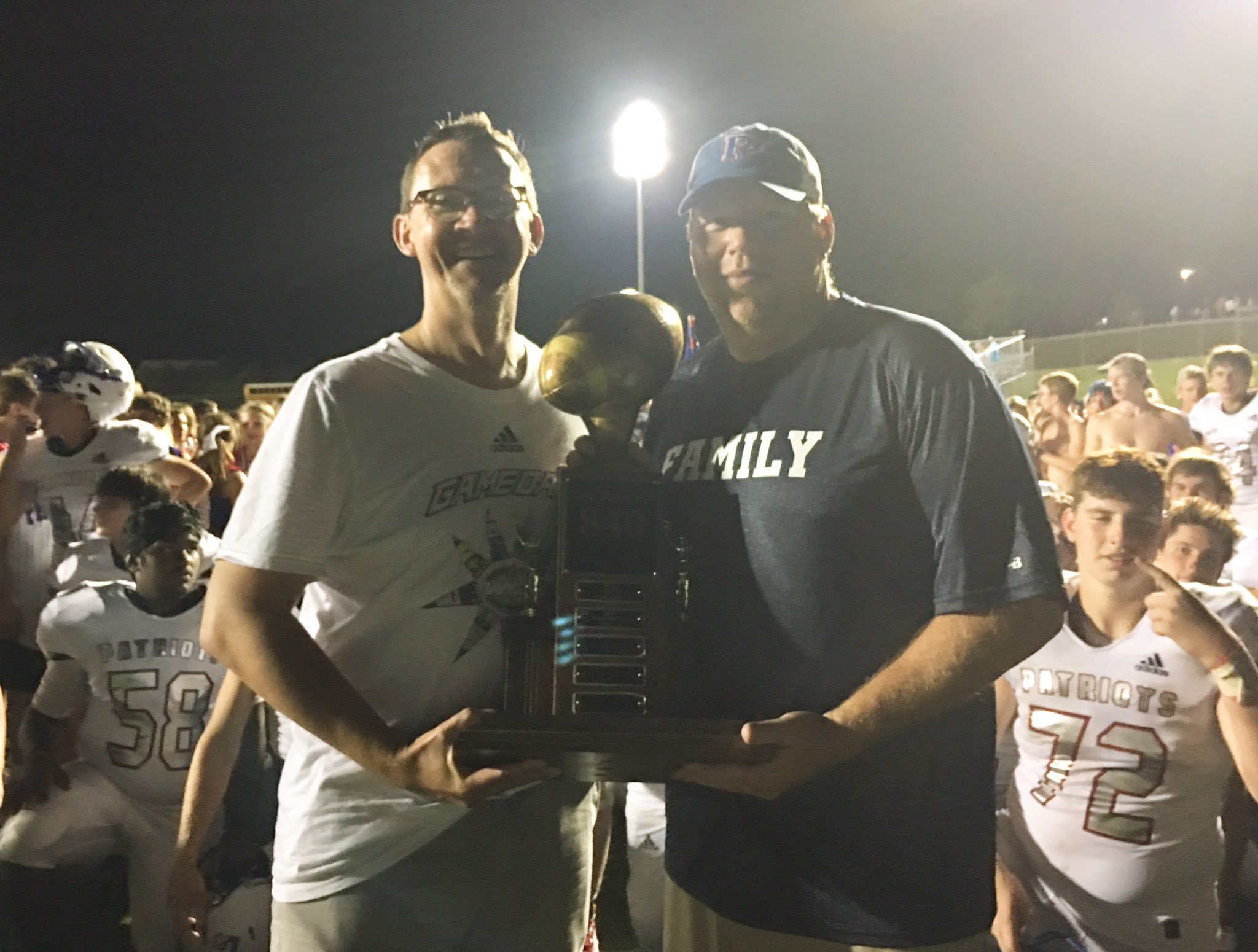 By GRANT LEDGISTER 
It took some time for the scoring to get started, but once it started raining for Page, it poured, en route to a 38-6 victory over host Fairview and its third straight Battle of 840 win Friday night.
In the first half, neither team was able to make much happen offensively as both teams' defense refused to break when it mattered. A couple quarterback keepers and some solid mixing of run and pass plays had Fairview within scoring distance early, but a failed fourth down conversion stopped them at the 10-yard line.
On the Patriots' first drive, quarterback Cade Walker was able to get the team out of a jam deep in their own territory, and it looked like the team was going to put together the game's first scoring drive in the first quarter, but penalties backed them up to outside of the redzone and the drive stalled after Walker threw an interception.
After the Yellowjackets' next drive stalled near midfield, Walker narrowly avoided throwing another interception. A few plays later, on third and 20, a long completion combined with a penalty saw the Patriots inside the 20-yard line, which Bubba Johnson would punch in for a score one play later.
Page had started to find the cracks in Fairview's defense and saw the strength in its own.
On Fairview's third drive, the team again threatened to score but would see another whiff on a fourth down conversion attempt. This would prove costly, as Walker would hit Hayes Barnett on the sideline for a 54-yard score to make it 14-0 at the half.
Page would get the ball first in the second half and capitalized far quicker than they did in the first. Johnson would break out for a run that went all the way to the Yellow Jackets' 12-yard line and added his second score of the night to make it 21-0.
"We just made a few adjustments, like picking up blocks" Page head coach Charles Rathbone said. "I talked about not making stupid penalties and executing. We had to clean up what we do."
At this point, the only battle Page wasn't winning was the turnover battle, and that quickly came to be a draw with Max Van Landingham picking off Fairview QB Anakin King deep in his own territory for a score.
Again, it seemed like Fairview could be putting a drive together that would score some points. Logan Nardozzi got the Yellow Jackets to the 46-yard line, but smart tackling stood them up without points for yet another drive.
Ryan Rutland would score for the Patriots to make it 35-0 with just under four minutes to play in the fourth quarter, and a fumble recovery by Page would put them ahead by 38.
"Turnovers are huge," Rathbone said. "If we drop the ball, they're going to score. If they drop the ball, we're going to score."
Nardozzi would score a touchdown for Fairview, but at that point it was too little, too late. With the extra point blocked and nothing major happening on the ensuing kickoff, Page was able to run the clock out and win the game.
Johnson had 100 yards rushing for Page (Rutland added 66 of his own), while Nardozzi had 159 for Fairview.
"It was a three-headed monster out there tonight," Rathbone said. "They ran and the offensive line blocked well. They did some real special things."
Page will have its home opener Aug. 31 against Siegel, while Fairview will head to East Hickman County.
Photo from WCS.