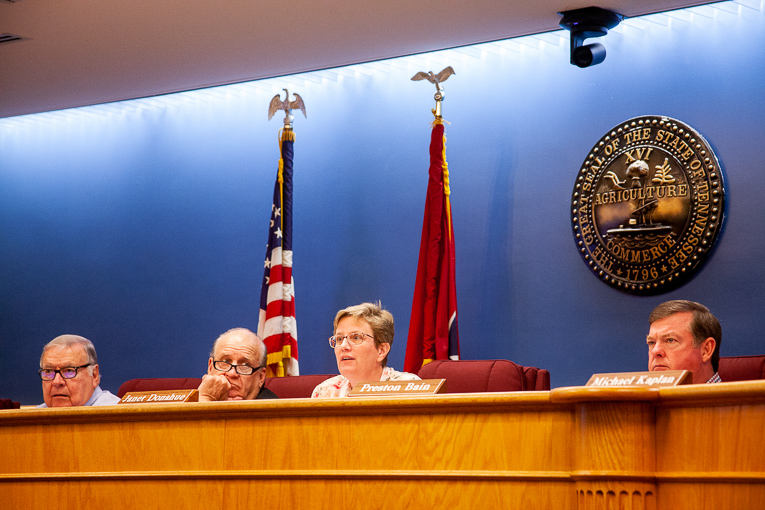 By MATT MASTERS
The Brentwood Planning Commission met on Monday evening where they approved plaza improvements for Maryland Park Way and CityPark mural.
Consent Agenda was approved unanimously with the exception of BPC1908-003, a Preliminary Plan – Brian Randolph Subdivision was deferred.
Within the Consent Agenda were two items, a minor site plan alteration to include the addition of a fence for The Bledsoe Agency at 1614 Franklin Road and a revised building elevation for Pure Sweat and Float Studio at Hill Center Brentwood.
Regular Agenda consisted of a review and recommendation to the Board of Commissioners of the proposed plaza improvements for Maryland Park Way, including seat walls, lighting, and a concrete trail, which was approved unanimously.
A revised site plan for a mural at CityPark Brentwood was unanimously approved after some debate on the color scheme, which will have a blue background with a design honoring Brentwood painted on the side of Suki Sushi Restaurant. The mural was applied for by and is a project of Leadership Brentwood.
A revised site plan was unanimously approved for the construction of a 27-foot-tall, 2,448 square foot storage barn at Remnant Fellowship Church.
Lastly as a part of the Regular Agenda, a revised site plan for Paw Pals on Peach Court was unanimously approved which will include a reconstruction of the 5,000 square foot building whose roof collapsed as work on an addition was beginning earlier this year.
The Planning Commission unanimously approved the Monthly Security Report which detailed $17,334,087.64 in the form of irrevocable standby letters of credit for commercial and residential projects as well as an escrow account with $3,090,728.28 for the month of September for a total $20,424,815.92.
"That number that I just read to you is $2,384,332 more than it was last month." Planning and Codes Director Jeff Dobson said. "We had three big subdivisions come online — Traditions, Taramore and Oman — so that's where all of that difference is showing up."
The commission also unanimously approved last month's meeting minutes. The Planning Commission will meet again on Dec. 2.