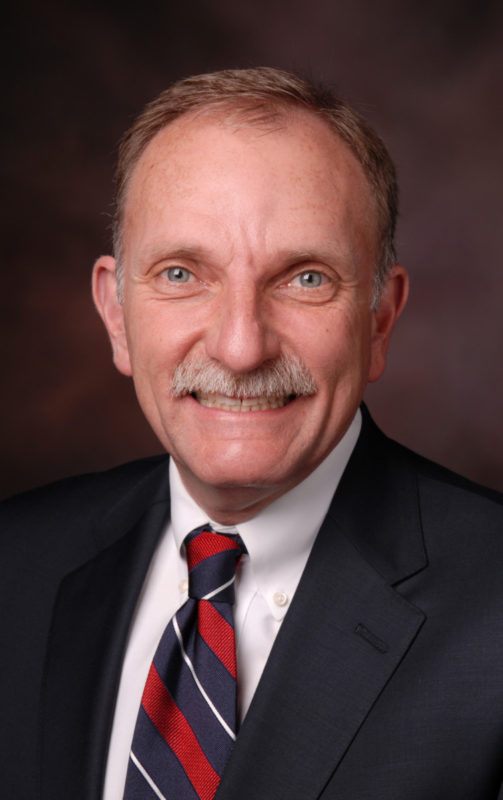 By RACHAEL LONG
Rhea Little has been a member of the Brentwood Board of Commissioners since 2009. On June 10, Little was elected by the commission as Brentwood's new mayor. Little sat down with Brentwood Home Page for a Q&A about his time on the commission, his experiences as a lifelong resident of Middle Tennessee and a few inquiries about his favorites, too. 
Brentwood Home Page: Tell me about your time growing up in this area. I'm sure you've seen a lot of change.
Rhea Little: Yeah, when I was a kid, there were probably more cows in Brentwood than people. Population-wise, it was probably … I'm going to guess it was 3,000 or so people when I was born. And I don't remember the exact figures, but I'm thinking that in the 1970s census, it had gone to about 11,000, so it was starting to grow. I think, now, we're like 43,500, depending on who does the estimate. It's more than a tenfold growth in my life. 
We used to walk through the Ward Farm to get into Brentwood. Of course, my grandfather had a service station, there's was Huff's Food Town, there was Noble's, there was the Traveller's Rest Motel, there was Lee's Apothecary. It was totally different. There was no fast food or any of that type of place. The fire department was on Pewitt Drive, it was just a little volunteer fire department, with a garage. They sold subscriptions, and so it was different. The police station and the jail were not much larger than a conference room. It was just kind of a place that everybody kind of knew each other. I can remember when we went to Huff's and we would get candy bars and all of that. For one thing, my grandpa had a charge account and he was pretty lenient with grandsons if we went out and charged candy bars to his charge account. 
BHP: At what point did you decide to go into public service?
RL: Well, in a sense, I've always been in public service, through our business and through other avenues, such as church, rotary — those types of organizations. 
The summer before I ran the first time, in July, it was really unusual. I've always gone to the Crockett Park concerts with my family, and that was the first place somebody said, "You know you'd make a great commissioner." Back then, I thought to myself, "Where did that come from?" I had really never thought about that or about doing politics. At the time, I didn't think much of it. But within about a three-week period, I had four different individuals go, "You know, you'd be a great commissioner." Their point was that I knew the city really well, I understood business things and I understood the history of the city and its citizens. But I thought, "No, I run a business, I'm busy, I have children. There's no way." However, I often find the good Lord talks to me through other people, and it's usually something I've never thought about. So by the time the fourth person brought it up, I thought, "Maybe I need to pray about this." So it took about six months for me to come to the decision that I should run. And being from this area and having been around here and so many different things, I was blessed because I had several people who helped me — some had political experience and some didn't. But it was pretty amazing, that first campaign. It ended up in such a way that I felt I really was supposed to be a commissioner. 
Looking back now, I've really done it four years at a time. I typically don't know two years in advance that I'm going to run for commissioner again. It's usually six weeks before the petition is due that I finally go, "OK, I'm supposed to do it." If I take on a duty, I'm gonna see that I take care of my responsibilities. 
BHP: During your tenure on the Board of Commissioners, what are some of the biggest challenges you think the city has faced and how has the leadership overcome some of those challenges?
RL: Well, of course, challenges are always handling growth. You just have to control the growth, and of course, traffic is constant. Even one of Brentwood's names in the 1840s and '50s was "Midway." That's where the mansion in Brentwood Country Club gets its name, it's "Midway Mansion," because it was mid-way between Franklin and Nashville. But it's also mid-way between Rutherford County and West Nashville, Rutherford County and downtown Nashville, etc. We're traversed everyday by people who don't do anything in Brentwood. Our major roadways are all controlled by the federal and state governments, and we have great working relationships with them because we're fiscally responsible. 
The key to Brentwood, to me, is to keep in mind that to stay strong and very independent as a small municipal city, we must stay financially strong. And we have to always keep in mind the reason we have such great amenities, but such low taxes is just because we have very good commercial areas which take up about 5 percent of our land area but provide about 60 percent of our revenue. By being financially strong, commissions are never tempted to suddenly put commercial in areas where commercial's not needed or not meant to be. But by the same token, you have to be willing to look at projects in your commercial areas that will maximize it. 
I've worked on vehicles for years. I'm an Automotive Service Excellence Master Mechanic many times over, and when you work with things, you want to optimize them. But you just go slow and easy. I always tell people, you can't get anywhere if you drive a car 600 RPM. And you can drive them at 8,000 RPM like they do with race cars, but you have to rebuild the engine every 500 miles, if it makes it that far. So you want to be somewhere between about 1,800 and 3,000 RPM, kind of slow and steady. 
Recently, the city bought a fire engine, which was paid for before it was acquired. There are even communities in our area that are making choices of whether to balance the budget or hire police officers or buy fire equipment or whatever. We have that done. 
BHP: What do you foresee as some of the biggest things the City Commission will take on in the next decade?
RL: Probably just keeping it slow and steady. We're approaching build out, but at the present rate, we're still 50 years away. There was a time in the early to mid-2000s where people were building between 600-700 houses per year in Brentwood. But now we're about 130 houses a year, and have been for the last couple of years. And so, we're a long way from build out. And because of the prices houses are becoming, I don't see suddenly 15 neighborhoods suddenly coming online. So I think just managing that, making sure that everything is built very well, continuing to keep parks good, adding amenities, those types of things. And managing traffic as much as we can. They're different challenges, but it's kind of like jazz. The theme is the same but you play off the theme. If it's traffic, you constantly are looking at ways of improving an intersection or adding a lane or installing a roundabout. Little improvements sometimes can make a world of difference. Of course, big projects have to be done like Franklin Road, but small things are sometimes very efficient. 
BHP: I think a lot of the commissioners have pretty good name recognition in the city. Some of them have been here a long, long time. But as the mayor, you kind of take on the role of being the "face" of the city in some ways. What are some of the plans you have as mayor, what are some of the big achievements you want to make during your term?
RL: Well, I don't know that there's necessarily any big achievements. When you're mayor in Brentwood, you're still a commissioner. You're just one of seven commissioners. You do officiate the meetings, you go to a lot more of the ribbon cuttings, and there's a lot more of the community organizations that will ask you first to any event. Of course, it's such an honor to be the mayor that I will do my best to be at everything I can. 
But I think the main thing as mayor is to try to keep the commission and the meetings flowing as they should and keep the meetings very fair. The commission in Brentwood has always been very honorable, and I think that's something that is protected. You mentioned some of the commissioners who have been it for several years; I think they're very important, their experiential knowledge and their institutional knowledge is important to maintaining the traditions and the honor of the commission. I know that they've often given me very good advice. Some I asked for and some I didn't. But I think it's really important as mayor to do your best to try to continue the good traditions of our political body. I think that's part of the reason Brentwood does well, is that the political body has functioned appropriately for 50 years. 
BHP: During the mayoral election, it was a bit hard to come together on who was going to be mayor. I think during the first night of voting, especially, there was some tension in the room. With that in mind, how do you think the commission will handle challenges and navigate tensions moving forward?
RL: I think, well I think it always has. I don't think you're going to have seven individuals up there that think alike, because if you did all the time, you'd only need one individual. You have seven people who are hard workers and are servants, but also, you have to have a little bit of competitiveness in you or you couldn't run a campaign. I will tell you that I didn't know I'd be elected mayor that night, but I'm grateful I was because I get the chance to serve in a new role. 
BHP: What's your favorite film genre?
RL: I like several, but for instance, we saw Rocketman recently, and it was kind of like an artistic biography. I enjoy stuff like that, but I love action, such as all the Bourne movies, Jack Ryan and those kind. I really like comedy, too, because actually I think comedy is the most intelligent of all the genres. It's really hard to make a point and also make it funny at the same time. The court jester in the medieval times was the one who generally could get the king's ear without getting his head cut off, because he made it funny.
BHP: What's your favorite local lunch spot?
RL: Oh, that's hard for me because I pack my lunch every day. I generally eat as I work. I'm one of those people who usually gets to the shop by 5:30 or 6 in the morning, and so I'm usually eating by 11, as I've eaten my breakfast before 7 a.m. If I eat a big lunch at work then by 2 p.m., I want to go to sleep, and I can't go take a nap. So, I just usually eat something light and eat as I work. 
BHP: As a longtime resident, do you know of any local Brentwood treasures?
RL: All of our historical mansions. Probably to me — and it's what I always watch for as we fly in — are the beautiful hills. It's home to me, so that's a treasure. As far as Brentwood just municipally, our library has got a children's library that's top five in the world — and this is from a community with less than 50,000 people — that's pretty amazing. 
Smith Park is 400 acres of what Brentwood was like when I was a kid. Back then, most of Brentwood was still pastures with cows and thoroughbred horses. But I'll never forget when the city had decided to buy it before we had opened it as a park. As a commissioner, I could go over there and walk and check the progress of things, and I would walk over that ridge and it smelled like Brentwood did when I was a kid. It's the leaves, it's the wildflowers, it's the acorns. It's all those smells you get in a forest. Now, how many places can you be this close to a population center which I think they've figure about 1.9 million now, and you can literally go over a ridge and be in a large enough park that it smells like it did when it was a rural area?
BHP: There's really nothing that brings back memories like smell, so it's really neat that you can go back there. 
RL: I can still smell the Red Geranium Pizzas, I can still smell when you walk into Baskin-Robbins. When I was young, that was like the hang out place for junior high and high schoolers, was the Red Geranium Pizza Parlor. I can still smell Noble's hamburgers. There was a place across called the Squire's Table, and they had good steaks. 
It was so much smaller, I mean, Old Hickory and Franklin Road were two lanes. There was no Concord Road exit. And all of that looked almost totally different, too. 
BHP: If you had to leave people with one takeaway, one message, one thing about you, what would you want people to know?
RL: That probably the best thing you could do in life is to serve others. I don't do it well, at times, I'm sure, and I don't do it perfectly. But literally, the greatest of all is the servant of all.
Editor's note: This Q&A took place on Friday, June 28 at Brentwood City Hall. Some responses have been edited and condensed for clarity.