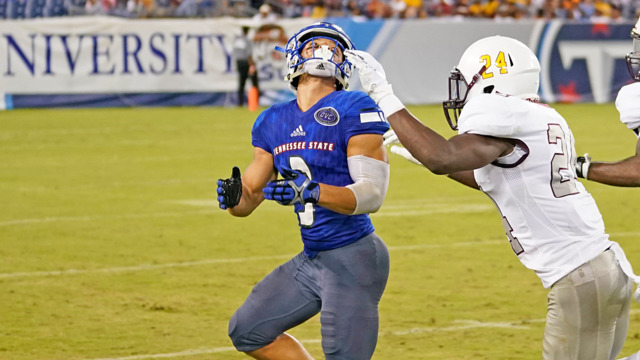 For the second straight week, TSU's Chris Rowland was honored by the Ohio Valley Conference for his standout play. This time, he was named the conference's Specialist of the Week for his work against Jackson State.
The award comes a week after he was named OVC Co-Offensive Player of the Week for his efforts against MTSU, where he caught 11 passes for 202 yards and two touchdowns — his scoring grabs were for 96 and 60 yards — in TSU's 45-26 loss to the Blue Raiders. His 96-yard touchdown reception is tied for the second-longest score in school history.
Against Jackson State, the Nolensville native tallied 267 all-purpose yards, including 124 yards on kickoff returns with a 96-yard return touchdown just 25 seconds into the game.
Rowland now leads the NCAA in all-purpose yards per game (234) and is one of just 11 FCS players to have a kickoff return touchdown this year. Through three games this season, he leads all FBS and FCS players in receptions (29) and receiving yards (513), while adding four touchdown receptions, 124 kickoff return yards and 61 punt return yards.
It's the third straight week TSU has had a player win an OVC award: Antonio Zita earned the OVC Specialist of the Week honor in Week 1.
Photo from OVCsports.com.