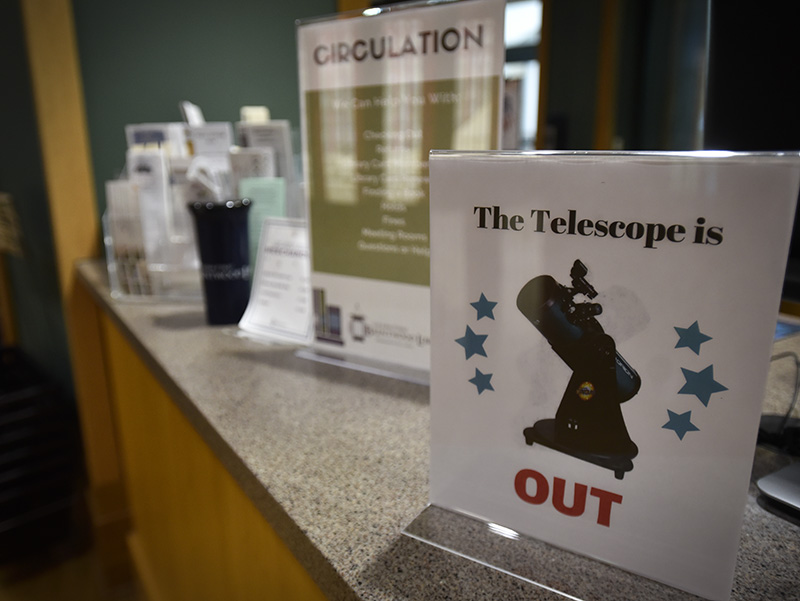 PHOTO: A sign denoting the availability of telescopes for checkout is seen on the circulation desk at the John P. Holt Brentwood Library on Tuesday, July 9, 2019 in Brentwood, Tenn. / Photos by Rachael Long
By RACHAEL LONG 
Mysteries of the night sky may now be in reach with the help of the John P. Holt Brentwood Library. Where having access to a telescope may have meant visiting an observatory or science center, Brentwood families now have access to two of the optical instruments from their very own library.
Library Community Relations Coordinator Sarah Norris said the program started this summer and matches the summer reading theme, "Summer of Space." The topics for each year's summer reading program is selected by the Collaborative Summer Library Program, and this year's theme is being celebrated in more than 16,000 libraries across the country, according to the National Center for Interactive Learning. 
Though 2019 marks a milestone for the Brentwood community, it also marks an achievement documented by American history books and Academy-award winning films: the Apollo 11 moon landing. The launch and landing both alike took place during the month of July in 1969. 
Space-themed programs have been in full swing for weeks at the Brentwood Library, and Norris says there are many more to come. She even mentioned that a special NASA exhibit would be making its way to the library in the winter months.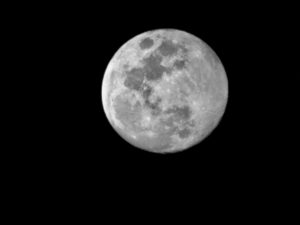 For now, the library's two telescopes are officially in circulation for check out, but Norris said they had been a hot commodity. 
"I think the most pertinent point that people will not understand is that you can't call to put it on hold for your account," Norris said. "If someone takes a phone call and says, 'Yes, the telescope is here,' and then someone in the lobby hears it, they can take that telescope. So, it's definitely a first-come, first-serve, in-person situation."
While the scopes have been popular, Norris said library staff will have to work out details — like storage space — before adding additional telescopes to the library's stock. 
Each telescope comes with a star chart and an instruction manual, Norris said. 
Details and rules for telescope checkout are as follows:
There is a one week rental period

No holds are allowed

A late return fee is in place at $2 per day

Telescope availability is shown via a sign at the circulation desk

Damage to the telescopes may result in replacement fines

The scopes are classified as entry level and come with a manual and star chart
As is true for most programs, the funding which allowed the purchase of the two scopes comes from the Friends of the Brentwood Library. The Friends group raise money for library programs all year, primarily through quarterly book sales and an online Amazon book store.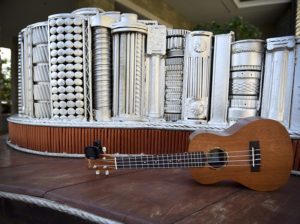 "Our friends group is more successful than most," Norris said, noting that some Friends groups have a hard time finding consistent membership. "But here, they have a ton of participation."
In addition to the telescopes, Brentwood Library members have access to ukuleles — which can be checked out — as well as puzzles, which Norris says are available "on the honor system."
The next Friends of the Library book sale is July 19-21 at the Brentwood Library. For more information on the Friends of the Brentwood Library, visit the city's website here or contact Friends President Kathy Dooley-Smith at 615-371-0090, ext. 8340.