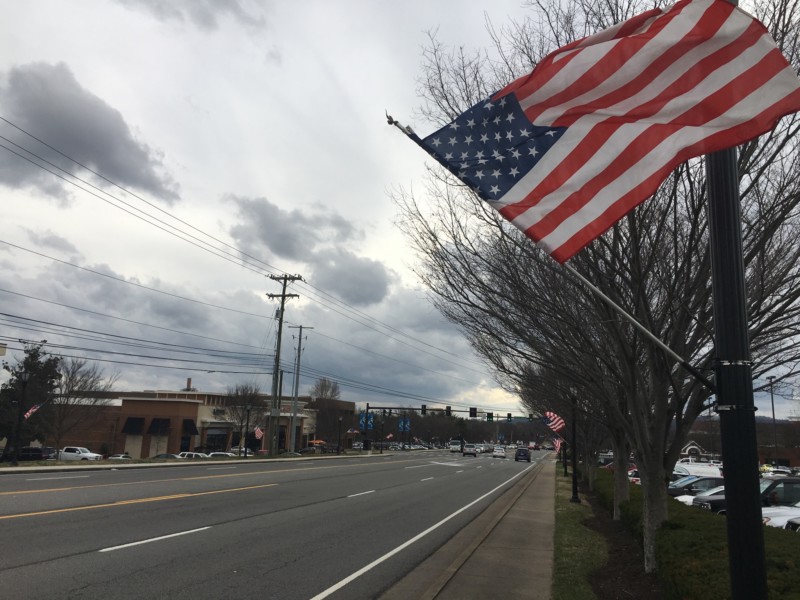 By RACHAEL LONG
It's the early morning of July 4, and volunteers have split up into teams to raise 110 American flags into mounts on the street lights lining Franklin Road. 
It's quite a task, but a team of six people can knock it out in 20 minutes. 
The men and women who volunteer their mornings to raise the flags do this at least eight times a year. Many are members of the Hillsboro Brentwood Exchange Club, a service organization founded in 1954 as a chapter of the National Exchange Club, whose mission includes the prevention of child abuse, inspiring community service and honoring the achievements of local students. 
Long-time club member, board member, former district president and flag chairman Ben Davis III said the volunteers often use trucks to put up the flags. Someone will sit in the truck bed to pass out a flag and another will place it in the bracket.  
"We literally have put out 110 flags in 20 minutes," Davis said, with a laugh. "That was three teams, and everybody got with it." 
Davis said he prefers to walk the route.
"[Putting up the flags] is one of those things that once you do it, you're kinda hooked," Davis said.
As Davis speaks about raising the flags, there's a glimmer in his eye. To him, the chance to honor his country and those who have served in the armed forces means a great deal. 
When asked why he volunteers to help erect the flags time after time, Davis bit back emotion.
"Because there are people who died so I can," Davis said. 
"It's hard to even explain in some ways," board member and former club president Edith Johnston said. "I had two uncles in the second World War, and you just feel patriotic about it. And they were so patriotic, they didn't miss a beat about being [so]."
The brackets which hold the flags along Franklin Road are permitted by the city to remain on the street lights, as the flags are raised on eight holidays a year: President's Day, Armed Forces Day, Memorial Day, Flag Day, Independence Day, Labor Day, Patriots Day and Veteran's Day. Johnston said the city even sometimes asks the club to raise the flags for special occasions. 
For several years, Davis said CityPark Brentwood has given the Hillsboro Brentwood Exchange Club a space to store the flags in between holidays at no charge. 
"It's their way to give back," Davis said.

A flag of your own
As a special treat, members of the Hillsboro Brentwood Exchange Club will be at the Kroger grocery store on Franklin Road Saturday to hand out flags. 
They won't be the big, stately flags that fly along the street. However, sponsorships for the large flags will be available, and according to Davis, those who take a sponsorship contract might just be in for a surprise.
Club members will be set up in front of Kroger from 10 a.m. to 2 p.m. on Saturday, July 6. 
Giving back 
As community service is one of the club's main purposes for existence, members organize several fundraisers each year. 
Their main event is a reverse-draw raffle, auction and dinner held at Chaffin's Barn Dinner Theatre in Nashville. Owners of the venue donate the space, Davis said. 
Tickets are $50 each, and there are only 300 tickets available. The event is sponsored by several businesses who donate items to the auction. Guests also have the chance to win door prizes and cash. As numbers are drawn from the raffle, the winning-most guests will have their names drawn last. 
"Every dime we make goes to charity," Johnston said. 
The next reverse-draw raffle event will take place on July 8, 2019 at Chaffin's Barn Dinner Theatre. 
The club hosts several secondary fundraisers throughout the year, honor firemen and policemen of the year, students of the month and more. 
Get involved
The Hillsboro Brentwood Exchange Club meets every second and fourth Tuesday of the month at 7:30 a.m. at the Crye Leike building in Brentwood. Business and individual memberships are available. The cost to join is $25 with a quarterly fee of $40. 
The group currently has more than 20 members who meet roughly 22 times each year. 
For more information about the club or to get involved, contact club President Mary Meyer at marymeyer001@gmail.com.