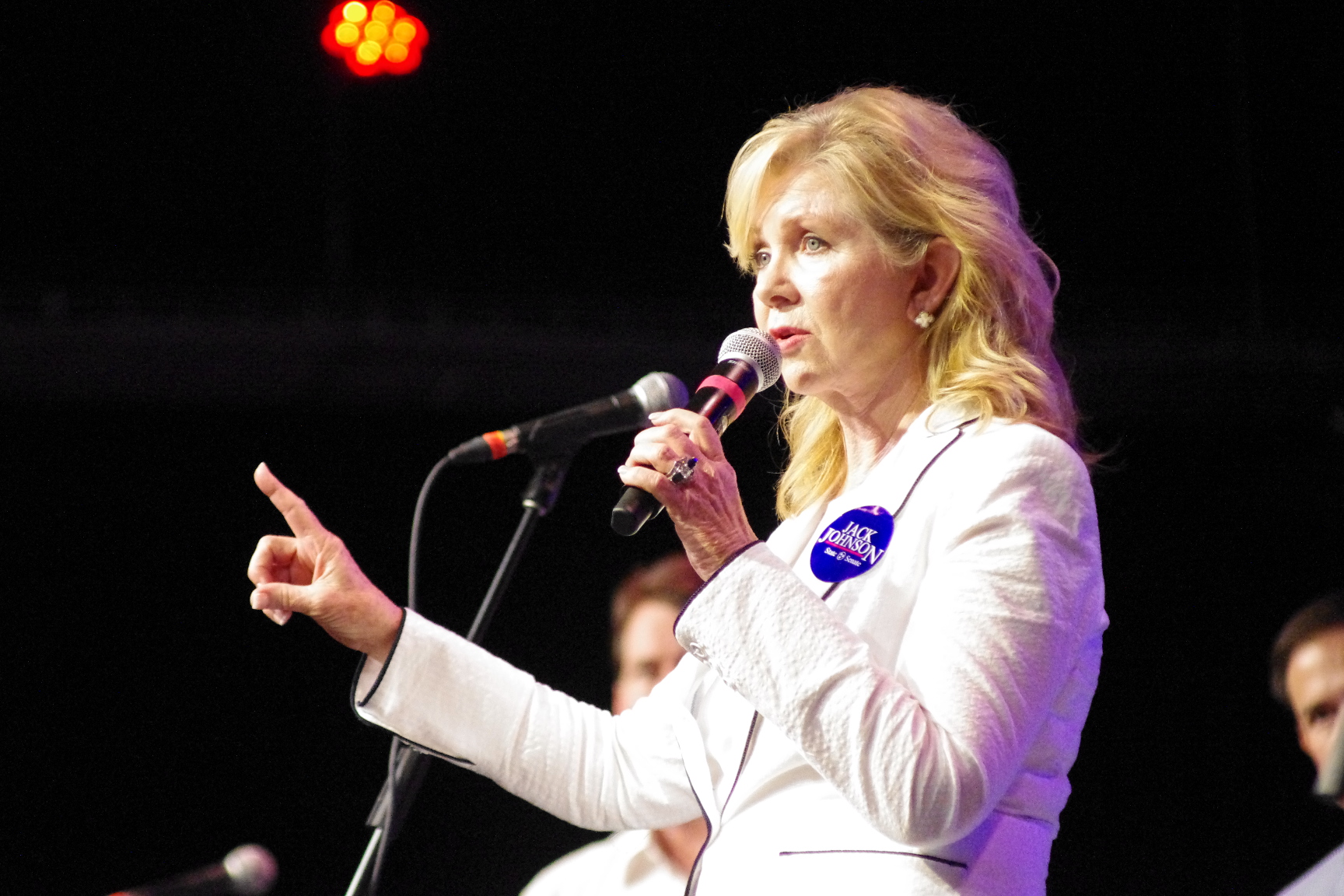 PHOTO: U.S. Sen. Marsha Blackburn speaking in Franklin on Friday. / Photo by Alexander Willis
BY ALEXANDER WILLIS
U.S. Sen. Marsha Blackburn called for accountability at the Federal Bureau of Prisons in a statement made to Home Page Media Group on Monday following the death of Jeffrey Epstein, who was found unresponsive Saturday morning in his cell at a Manhattan city jail.
Epstein, the New York financier and convicted sex offender who was awaiting trial on sex trafficking charges, was pronounced dead Saturday morning after he was discovered unresponsive at around 6:30 a.m. Epstein was transported to New York-Presbyterian Lower Manhattan Hospital where he would later be pronounced dead.
Epstein's death has raised questions from those all across the political spectrum, with Attorney General William Barr announcing a federal investigation into the circumstances of his death.
Reports have already surfaced of protocol not being followed at the Metropolitan Correctional Center in New York City where Epstein was being held. According to the Washington Post, who spoke with someone familiar with the matter on the condition of anonymity, Epstein should have have been checked up on by jail staff every 30 minutes, but instead was found several hours after his death. Epstein also should have been assigned a cellmate, but instead was left alone in his cell, according to the same source.
Raising further scrutiny was the fact that Epstein had been placed on suicide watch as recently as July 24 after being found semi-conscious in his cell with marks on his neck. Recent reports reveal Epstein had been taken off suicide watch on July 29, just five days before his death, at the behest of his defense attorneys, who according to The New York Times, have recently hired their own defense lawyers.
Epstein's social circle included numerous world leaders, celebrities and politicians — among them President Donald Trump and former President Bill Clinton — raising further questions as to who else may be implicated in the sex trafficking charges against the disgraced financier.
"Jeffrey Epstein's crimes are despicable and his victims deserve justice," Blackburn said in a statement. "There must be accountability at the Bureau of Prisons, and it is encouraging to see Attorney General Barr recognize the need for a further investigation into the circumstances of his death."
Epstein's first criminal conviction in 2008 raised serious questions regarding his sentencing. Convicted of 'procuring for prostitution a girl below age 18' in Florida, Epstein was sentenced to 18 months in prison, but was allowed to leave on work release for up to 12 hours a day, six days a week, according to records obtained by the Miami Herald.
Epstein was also housed at a private wing of the Palm Beach County Sheriff's Office, whereas typically, convicted sex offenders in Florida are held at state prison. 
Epstein would go on to serve less than 13 months of his 18 month sentence before being released on probation. As a registered sex offender in New York, Epstein was also required to check in with police every 90 days, per a judges request. Records show that not once did Epstein check in with New York police since being designated a registered sex offender in 2010, despite non-compliance being a felony.
Fast forward to July 6 of 2019, Epstein was arrested a second time at a New Jersey airport on new charges of sex trafficking, despite his controversial plea deal more than a decade prior. Epstein's $77 million Manhattan townhome was also raided that same day, with investigators collecting hundreds of lewd photos, some of which were confirmed to be of underage females, as well as CD's with hand-written labels containing such phrases as "Young [Name] + [Name]," "Girls pics nude," and "Misc nudes 1," drawing further speculation that other powerful individuals may be implicated in Epstein's alleged crimes.
The timing of Epstein's death has also become a matter of speculation, coming just one day after a federal appeals court unsealed over 2,000 documents from a 2015 defamation lawsuit. 
Filed on behalf of 36 year-old Virginia Giuffre, the lawsuit alleges that at 16 years-old, Giuffre was approached by Epstein's close associate Ghislaine Maxwell at Trump's Mar-a-Lago resort, and would later be recruited to perform sexual acts with prominent figures. Individuals listed in the lawsuit include member of the British Royal Family Prince Andrew, former New Mexico Gov. Bill Richardson and late MIT Scientist Marvin Minsky, among other prominent figures.
Attorney General Barr, who called the irregularities of the incident "deeply concerning" on Monday, also said the case would not end with Epstein's death.
"Let me assure you that this case will continue on against anyone who was complicit with Epstein," Barr said. "Any co-conspirators should not rest easy. The victims deserve justice, and they will get it."