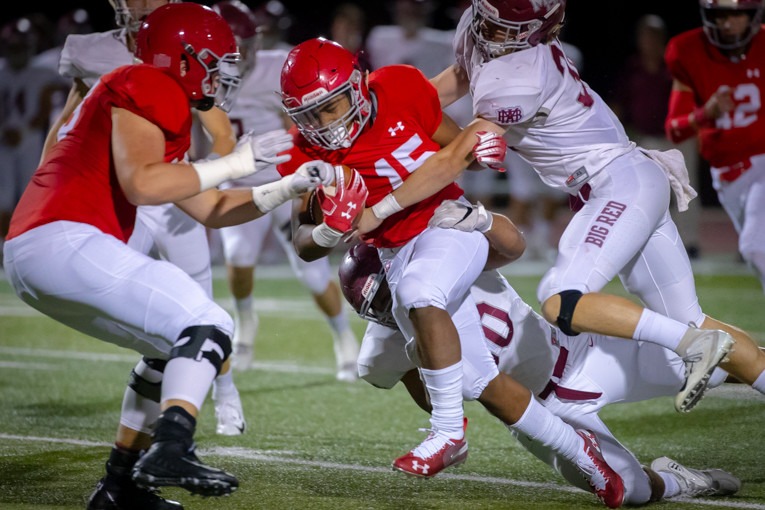 Our Game of the Week story is brought to you by Vanderbilt Orthopaedics.
STORY BY CORY WOODROOF | PHOTO BY ANDY COLLIGNON 
It's going to be a pivotal week for the Brentwood Academy Eagles.
The Eagles, four-time state D-II AAA state champions, are heading into this year's annual rivalry game with Montgomery Bell Academy with a bit of a chip on their shoulder.
The team is a more-than-respectable 5-2, but it finds its two losses against region opponents McCallie and Knoxville Catholic.
It feels silly to say this, but Brentwood Academy might have something to prove when it takes on its longtime foe in Nashville Friday night.
How can a team that's won four-straight state titles have something to prove, you might ask.
Well, the king wears a heavy crown, and few teams have the state reputation of the Eagles right now. It's becoming more and more a storied program, and the most likely school in the state to send a player to the NFL or NBA.
The Eagles are currently running with quarterback Tayler Montiel, who has performed well in recent weeks after taking over under center midseason.
He's aided by Jordan James, one of the best running backs in the state and a touchdown machine, and receivers Aaron Lovins and Manny Scott lead the passing attack for the Eagles.
MBA, sitting at 4-3 right now, had a rough start to the year before hitting their stride in recent weeks. A 1-3 start has turned into a 4-3 record, with its stingy defense only allowing about 13 points a game this season.
It'll be up to BA to turn on the stove against a good home team with a defense that just doesn't let up easily.
Montiel threw for more than 300 yards last week in the loss to Knox Catholic, and James rushed for more than 100 yards.
It's rare for BA to be so on-point in both areas on offense and still lose, so the focus might be on the Eagles' historically-stout defense to rebound after a tough week against a great offense in Knox Catholic.
The Eagles' remaining schedule is all region games after this as well as a bye week, with Ensworth and Baylor still in the cards.
With the team at 1-2 in the region, getting those wins will be paramount. But MBA is first, and that's the big one.
The Big Red got BA in the regular season last year before getting trounced by the Eagles in the playoffs, which leaves MBA the team eager to even the score.
BA has a big remaining October ahead of it. If it can win out, it'll prove to the rest of the class that they're still a major threat for the state title.
Losing more games will make that road harder and could leave BA out of the state game for the first time in a while.
Watching how high these Eagles soar will be a fascinating plot line for the rest of the month in Williamson County football.
PREDICTION: Brentwood Academy 34, Montgomery Bell Academy 27 
Neither team seems to be at its pinnacle this season, but look for the Eagles to rebound. It'll be a big week for James to get going on the ground, and look for him to have at least two touchdowns as he paces BA.
It's going to be a big game, but look for BA to score a last-minute touchdown to ice this one and get to 6-2.