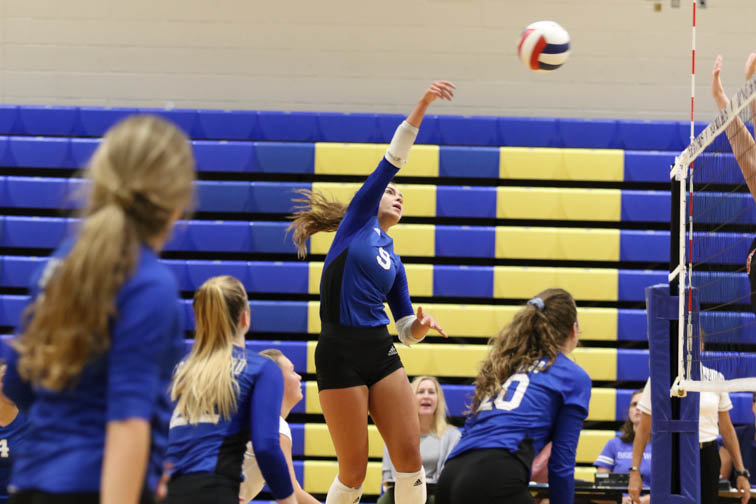 STORY BY MITCHELL STEPHENSON | PHOTOS BY CARL EDMONDSON, JR. 
The most recent Battle of the Woods volleyball addition between Brentwood and Ravenwood was not only a thriller, but a preview of what many consider a possible state tournament match up.
The matchup is always highly anticipated, as both teams are perennial state players and their skill, determination and passion for the rivalry was on full display.
Ravenwood won the first two games and it looked as the Lady Raptors were going to claim a win on the main rivals home gym. Then Brentwood caught momentum and won the next three set to win the match 3-2.
The entire five-set match was a complete slugfest. Ravenwood took a 6-5 lead in set one. It was 12-11 lead as the match progressed. Ravenwood showed extreme determination as they closed out game one 25-19.
In set two Brentwood jumped out to a hard fought 14-10 lead. Ravenwood fought back to tie it at 15-15. Ahead 21-17 you could tell the Raptors were dead set on nothing short of victory. They displayed power shots, and incredible timing, with their offensive setups. Ravenwood closed out game two 25-21.
In set three the Bruins caught fire and refused to lose on their home floor. After a tight game of it being 6-5, then 14-13, the Bruins played well enough throughout the game to win 25-17.
In set four the Bruins were determined to send the match to a fifth and final set and came out to a 9-2 lead. It went to 18-9. And as both rivals fought hard it was Brentwood winning game four 25-15, tying the contest at 2-2 game wise with the fifth and deciding set to determine the Battle of the Woods.
The difference in the match seemed to be momentum changes. Ravenwood controlled the momentum during the first half of the match. And the second half of the match Brentwood was able to seize the momentum, and hang onto it in set five. In set five it was winner take all. Brentwood jumped out to a 7-4 lead. Electrifying the home crowd. Brentwood won game three ending the match highly competitive match 15-11.
Brentwood head coach Barbara Campbell gave her thoughts on the victory.
"It was a marathon," she said. "It took us awhile to gain our confidence. I was really proud of the way my girls stayed steady. And it enabled them to come back, and they found a way. That's what winners do, they find a way.
"And Ravenwood is really, really good. And we'll see them again. So we can't celebrate too much. But we'll enjoy this one, and take it one at a time. "
Brentwood was lead by Shaye Eggleston with 24 kills and 10 digs. Rylie Kael posted up 14 kills, 17 digs, Haley Sanders had 20 digs and Piper Drazek had 46 assists.
Ravenwood head coach Abbey West shared after the contest.
"I was proud of the crew," West said. "Towards the end of the match our inexperience showed. But we're playing the long game here. Everyday we step on the court we're getting better, and better."
Ravenwood was lead by Madison Willhoit with 4 aces and 18 assists and Camille Spencer with 30 kills and 11 digs. Madison Bidwell had 12 kills and 6 digs. Carly Cooper – 30 assists, 16 digs, Bella LePore had 17 digs and 5 assists.
Both teams have Centennial on the horizon this week.